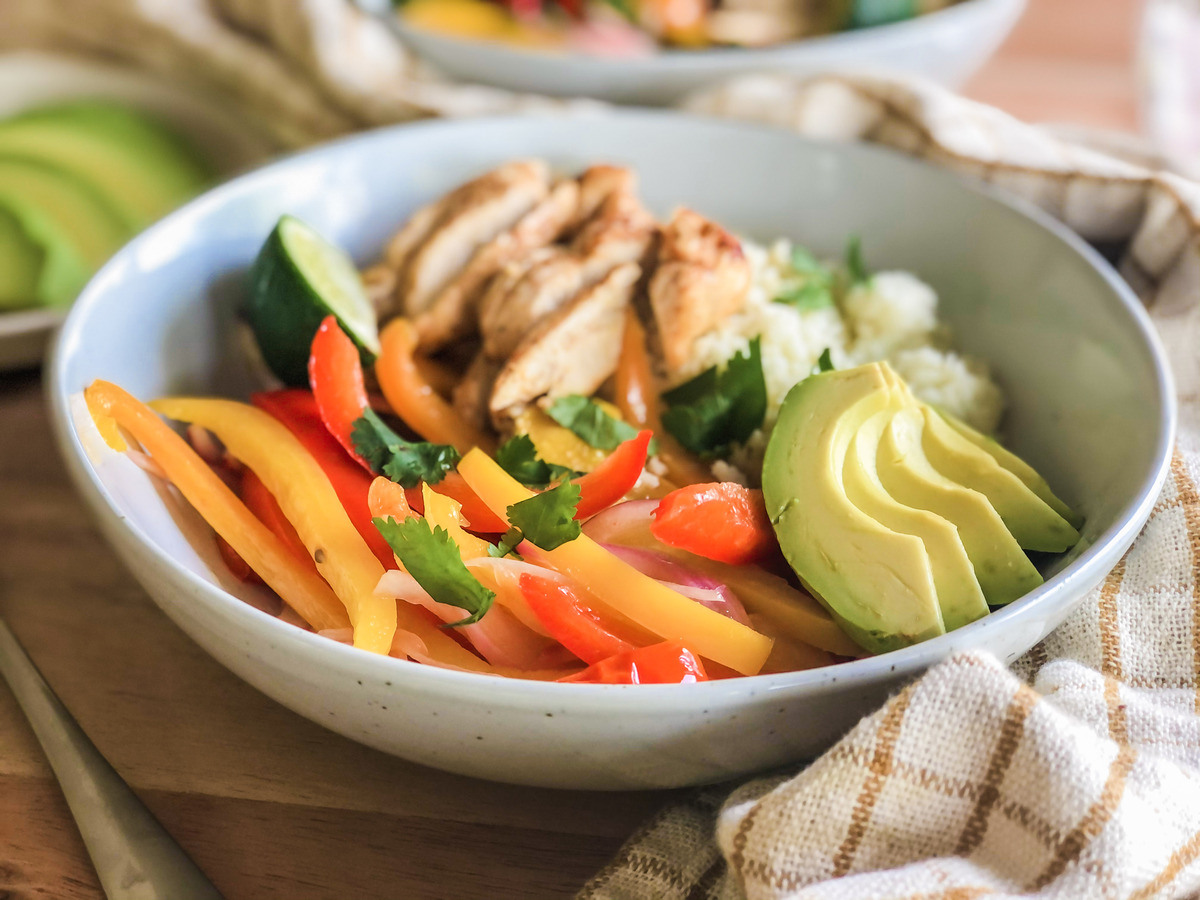 Chicken Fajita Bowl with Cauliflower Rice
A flavorful bowl with all the fixin's! Make your own DIY bowl with this easy recipe that comes together quickly.
This fajita bowl is healthy and filling, piled high with juicy marinated chicken and crisp veggies over Paleo-friendly cauliflower rice. This meal may take a bit of planning ahead of time, but it comes together quickly and easily. If you're looking for the perfect meal prep recipe, this one is it!
Start by marinating the chicken. Slice chicken breasts (or thighs) into strips, then whisk up a marinade of olive oil, lime juice, garlic, cilantro, and a few Mexican-inspired spices. Pour the marinade over the chicken and set it in the fridge for at least an hour, but preferably overnight.
You'll also need to have cauliflower rice ready. You can buy it at the store, or make your own by chopping a head of cauliflower into florets, then pulsing in a food processor until it resembles rice. To heat it up, simply saute with about 3 tablespoons of olive oil in a large skillet. Cook for 5-6 minutes, stirring occasionally, then set aside.
When you're ready to cook, drain the marinade and sear the chicken on both sides until cooked through. Remove the chicken, then add red onion and a variety of colorful bell peppers, all sliced thinly. Cook until crisp-tender, then remove from the heat.
To build your fajita bowls, divide the cauliflower rice evenly between two bowls, then add the cooked chicken and veggies. Finish with slices of fresh tomatoes and avocado. Serve immediately.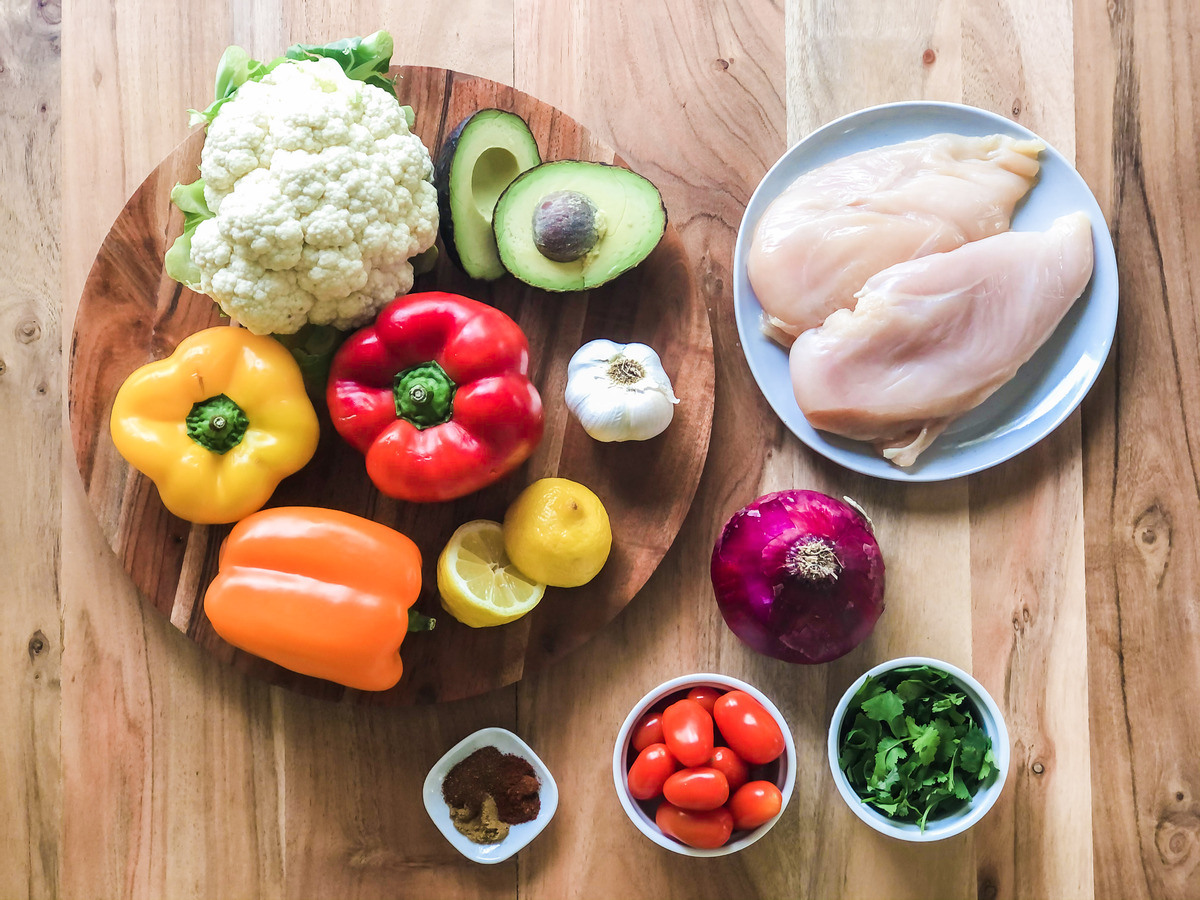 For hundreds of pure Paleo recipes be sure to check out  The Real Paleo Diet Cookbook and  The Real Paleo Diet Fast and Easy.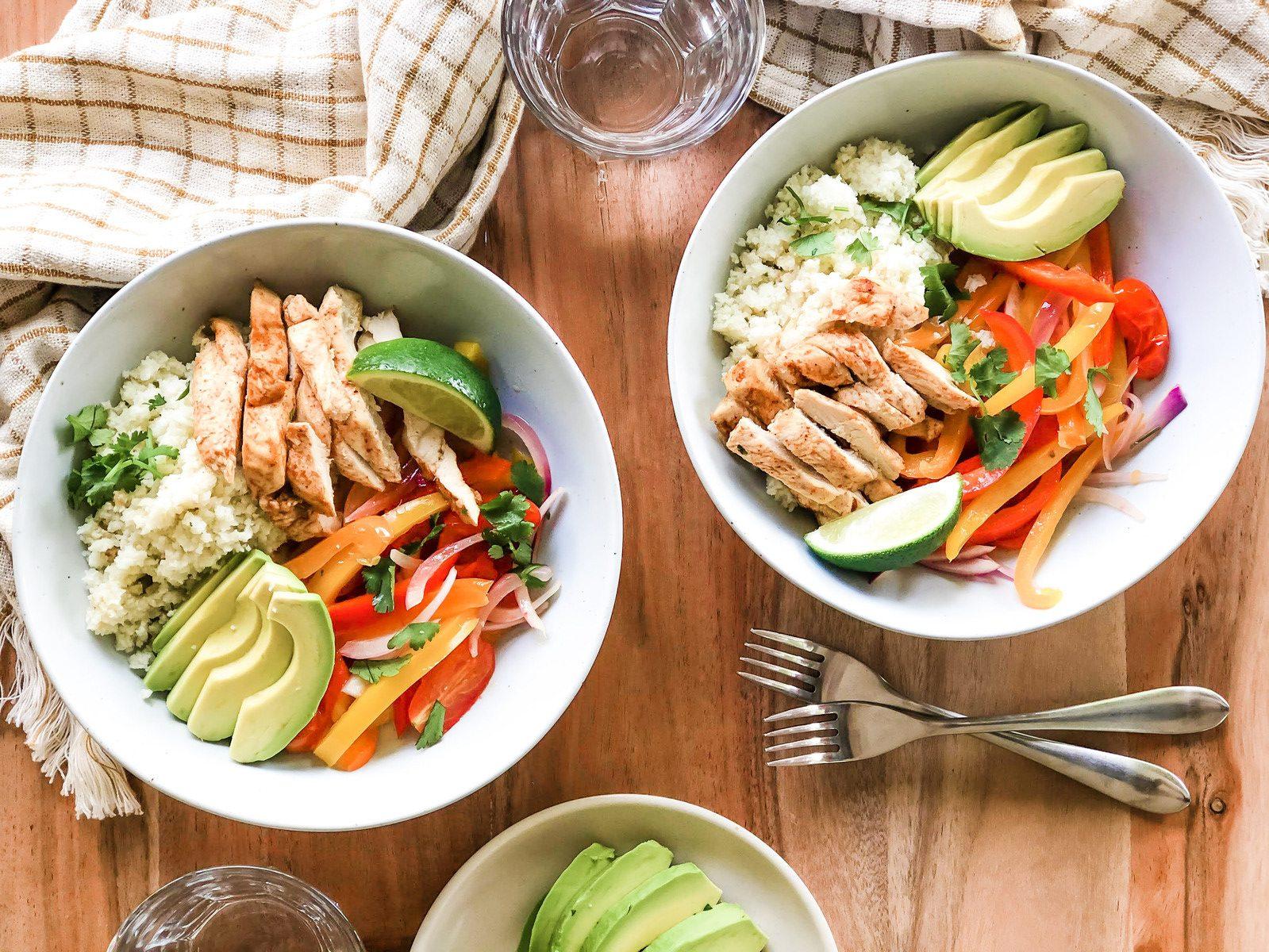 Details
Prep Time:

1 hour 15 minutes

Cook Time:

15 minutes

Total Time:

1 hour 30 minutes
Ingredients
2 large skinless, boneless chicken breasts

3 tbsp olive oil, divided

1 tbsp lime juice

2 garlic cloves, minced

1/2 tsp ground cumin

1/2 tsp chili powder

1/2 tsp smoked paprika

1 small red onion, thinly sliced

3 bell peppers, thinly sliced

1 cups cauliflower rice

1 cups fresh tomatoes, chopped

1 avocado, sliced

1/4 cups chopped cilantro
Directions
Slice your chicken breasts horizontally so they will cook quickly. Set aside in a glass dish.

In a small bowl, whisk together 2 tablespoons of the olive oil with lime juice, garlic, cumin, chili powder, paprika, and cilantro. Pour over the chicken breasts, set in the fridge, and marinate for at least 1 hour.

Heat the remaining tablespoon of olive oil in a skillet over medium-high heat until it shimmers. Remove the chicken from the marinade and shake off the excess. Carefully add the chicken to the hot skillet and cook for about 5-7 minutes per side. You can use a meat thermometer and cook until the chicken registers at least 165°F and juices run clear.

Remove the chicken from the pan, cover with foil, and let rest. Add the red onion and bell peppers to the hot skillet and sauté until crisp-tender, about 5 minutes.

Assemble the bowls with cauliflower rice, sautéed veggies, chicken, tomatoes, avocado, and cilantro. Serve immediately.