Dip your spoon into this rich and creamy vegetarian-friendly chestnut soup for a hearty appetizer or meal!
What better way to celebrate fall than with a warm soup made with chestnuts? These buttery, slightly sweet nuts come into season in September through November, and make terrific additions to your holiday table.
However, you don't need to just roast them and enjoy them on their own. Chestnuts are a terrific rich and nutty base for soup, and this recipe proves it!
We recommend that you start with pre-cooked chestnuts to make this recipe easy. You can find them vacuum-packed or jarred in stores. However, if you have whole chestnuts and really want to cook them the traditional way, we recommend roasting over boiling for the most fragrant chestnuts. Be sure to cut slits in each chestnut, which serves as steam vents, before adding to a 375°F oven for about 30 minutes. Let them cool a bit before cutting each chestnut in half, then cool a few minutes more. Use a small spoon to scoop out the soft chestnut meat, and discard the shells and skins.
To make the chestnut soup, start by adding chopped leeks, parsnips, ginger and garlic to a large stainless steel pot, and cover with water. Bring to a boil, then reduce the heat and let the ingredients simmer for about 20 minutes. Add the pre-cooked chestnuts and cook about five minutes more. Off the heat, stir in a bit of olive oil and lemon juice. Use an immersion blender to puree the soup. If you're using a nonstick pot instead of stainless steel, be sure to blend the soup in batches in a blender instead, as the immersion blender can destroy the coating of the nonstick pan.
We like our chestnut soup chunky, but if you prefer yours to be smoother, you can add more water, a dash of vegetable broth, or even coconut milk to make it extra silky.
Serve your pureed chestnut soup topped with a drizzle of olive oil and freshly cracked black pepper. Grab a spoon and dig in!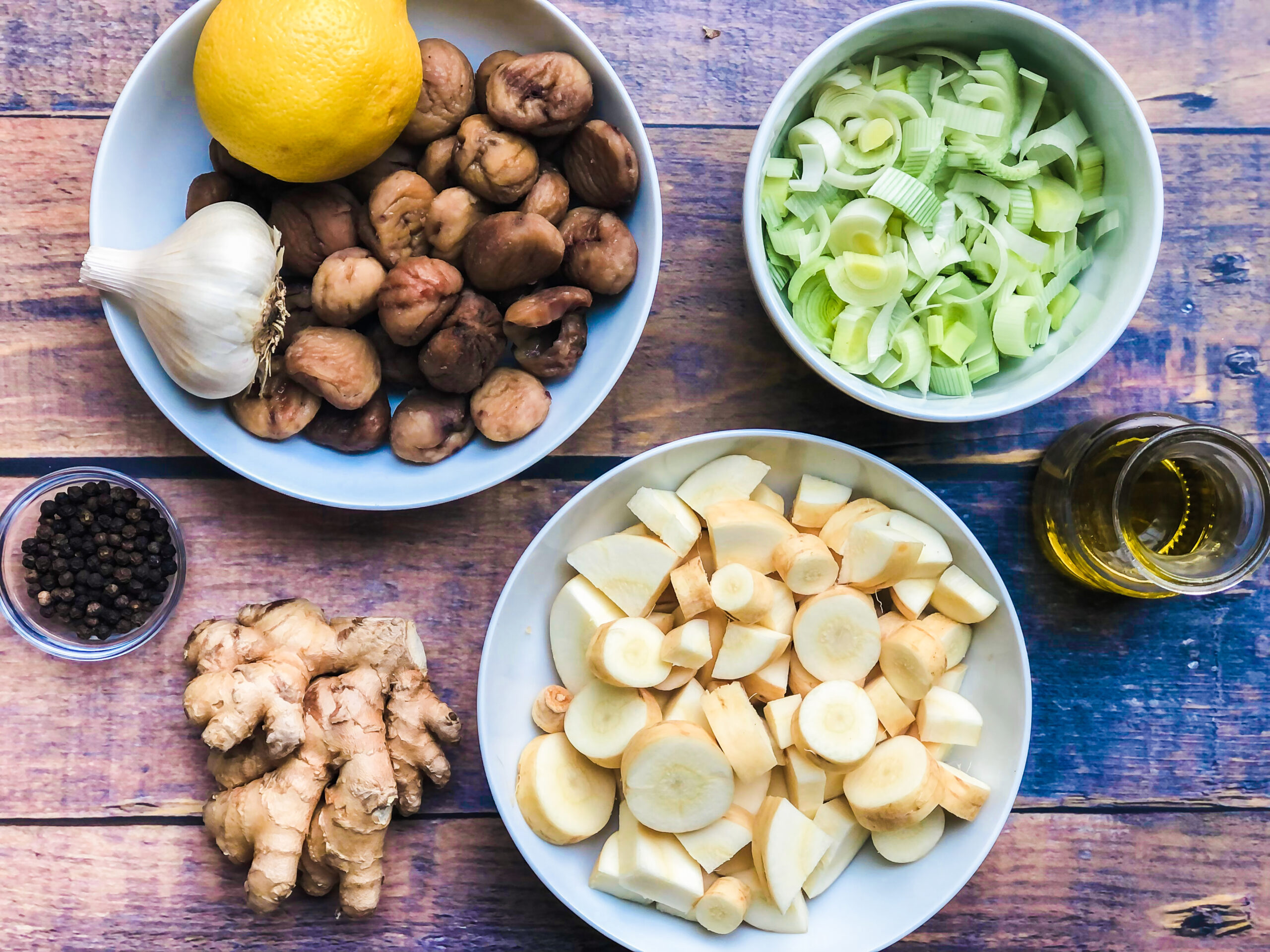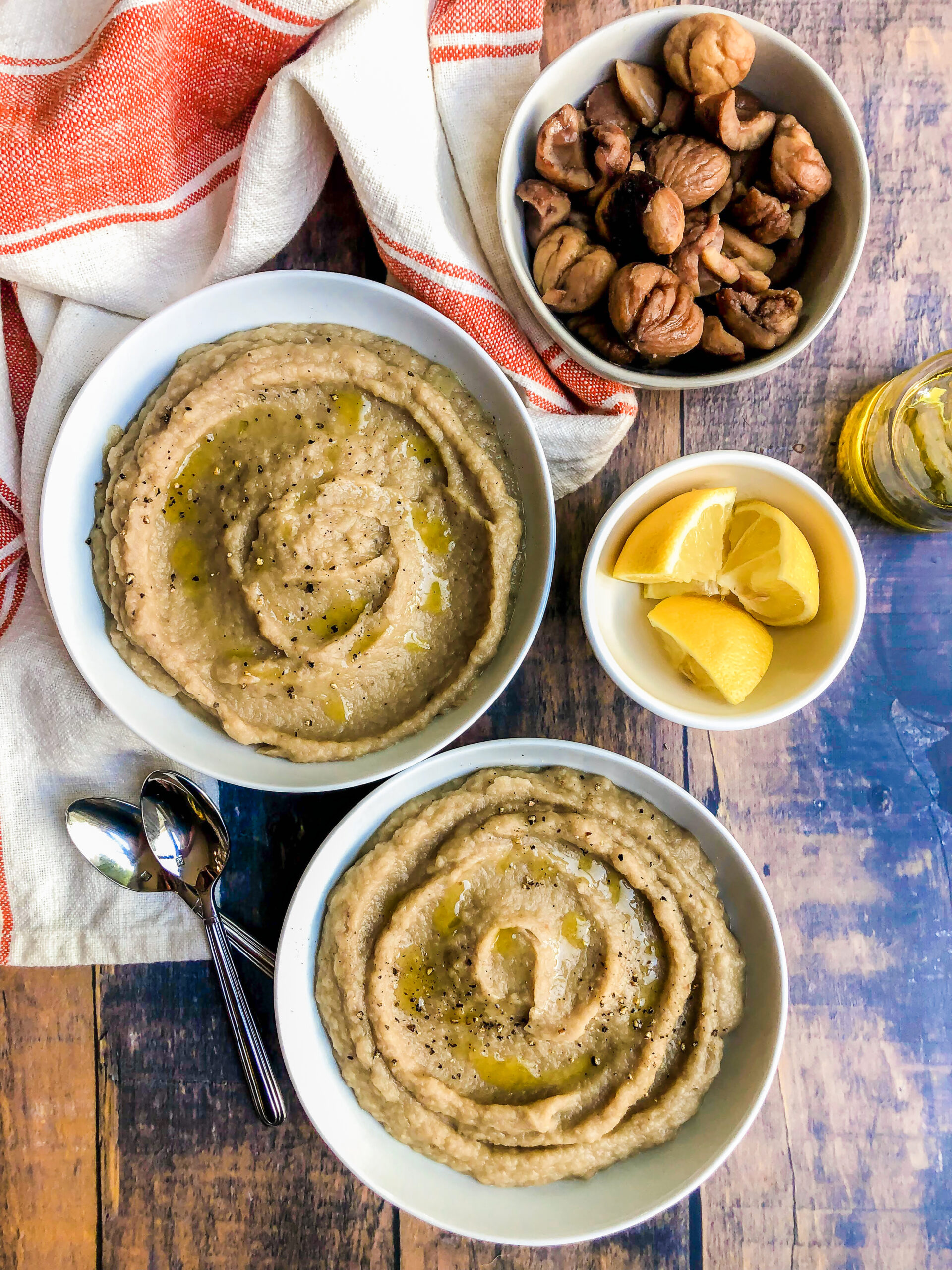 For hundreds of pure Paleo recipes be sure to check out  The Real Paleo Diet Cookbook  and  The Real Paleo Diet Fast and Easy.
Details
Recipe by:
Serves:

4

Meal:
Prep Time:

15 minutes

Cook Time:

30 minutes

Total Time:

45 minutes
Ingredients
1 leek, chopped

2 parsnips, peeled and chopped

1 inch ginger, minced

1 garlic clove, minced

25 chestnuts, pre-cooked

2 tbsp olive oil, plus more for serving

2 tsp lemon juice

Freshly milled black pepper
Directions
Put the leeks, parsnips, ginger, and garlic in a pot, and add just enough water to cover. Bring to a boil, reduce heat, and simmer for about 20 minutes.

Add the chestnuts and simmer an additional 5 minutes. Remove from heat and cool slightly. Add the olive oil and lemon juice.

Use an immersion blender to puree the soup, or add to your blender in batches. Taste and add more lemon juice if necessary.

Serve drizzled with olive oil and with freshly cracked black pepper.