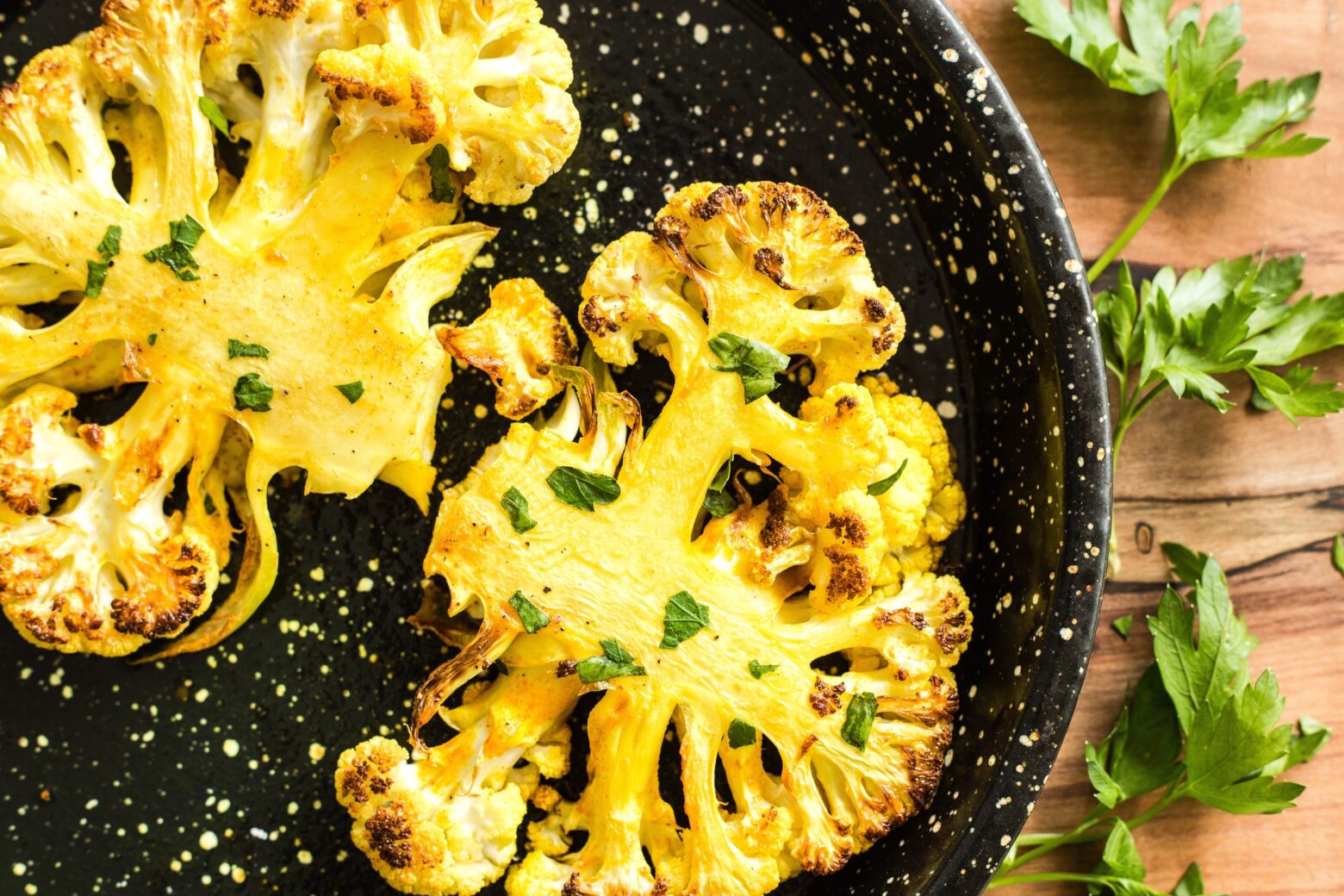 Roasted Cauliflower Steaks
Need a quick and easy side dish for tonight's dinner? Try these crispy roasted cauliflower steaks seasoned with turmeric and paprika.
It can be hard to nix salt when you fully adopt The Paleo Diet® lifestyle. However, since roasted cauliflower retains its natural sodium, it's a great way to transition away from your habit of sprinkling on the added salt.
This roasted cauliflower recipe is super easy. All you need is a handful of ingredients and a nice hot oven. The only part that requires a little work is slicing the cauliflower correctly. Fortunately, it's also quite easy!
How to slice cauliflower into steaks: Cut off the outer green leaves from the cauliflower and trim off the stem. Use a large knife to cut the cauliflower in half. Cut 1.5-inch thick steaks from each half of the cauliflower (making sure the florets are all attached to the stem). You should be able to get two large steaks from one head of cauliflower. Set aside the florets that have broken off for another use, such as making cauliflower rice, mashed cauliflower, or just normal roasted cauliflower.
Next, brush each side of the cauliflower steaks with olive oil and seasoning. We used turmeric, black pepper, and paprika, but you could also go with a sprinkle of dried chili flakes, garlic powder, onion powder, or even everything-but-the-bagel seasoning (if it's salt-free!).
Roast in a preheated 500°F oven for 15 minutes on one side, 10 minutes on the other. Your cauliflower steaks should be golden and nicely crusted on both sides. Garnish with fresh parsley or cilantro and serve alongside your favorite main dish.
Tip: This cauliflower side dish would taste great with this slow cooker beef roast, or alongside these one-pan pork chops.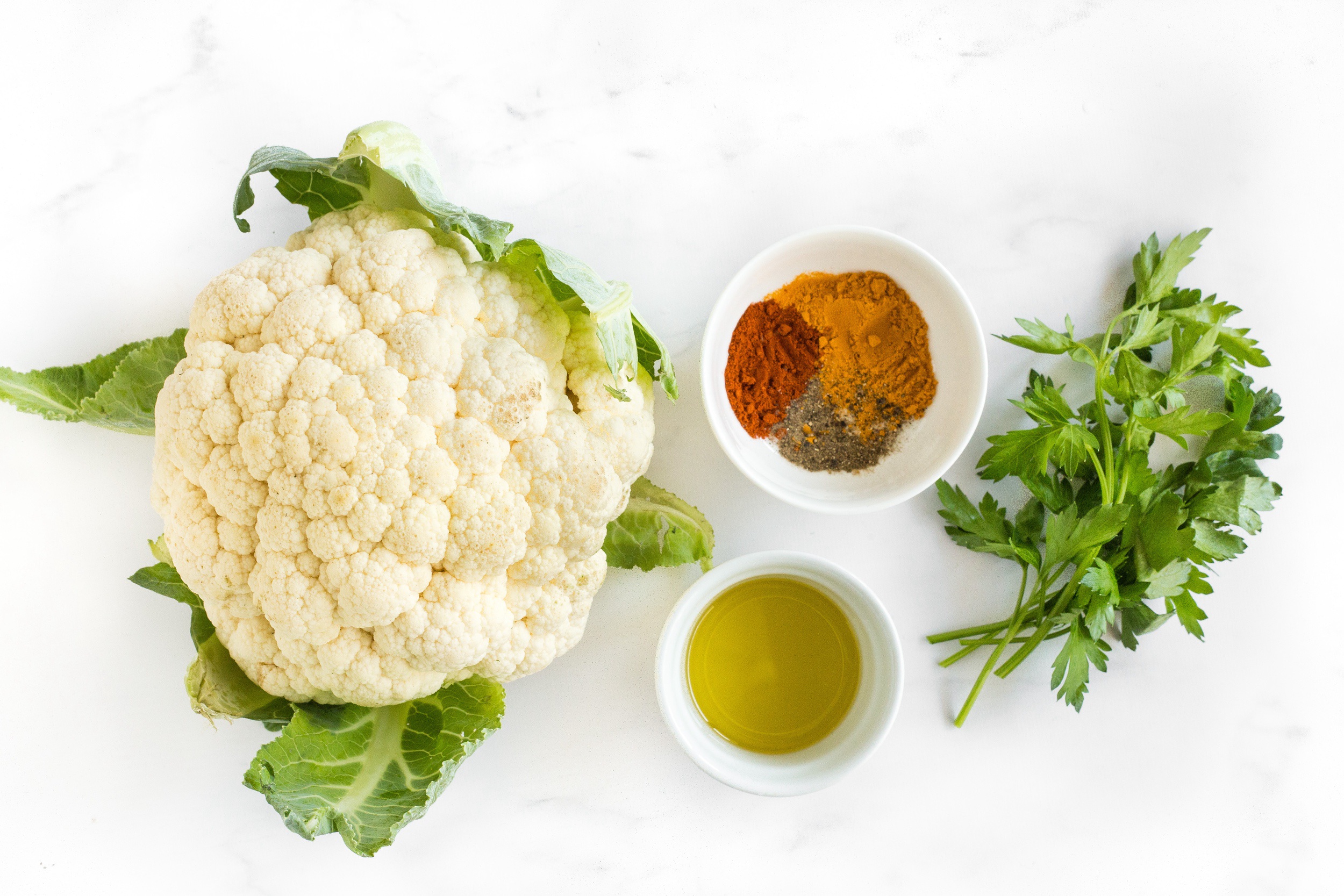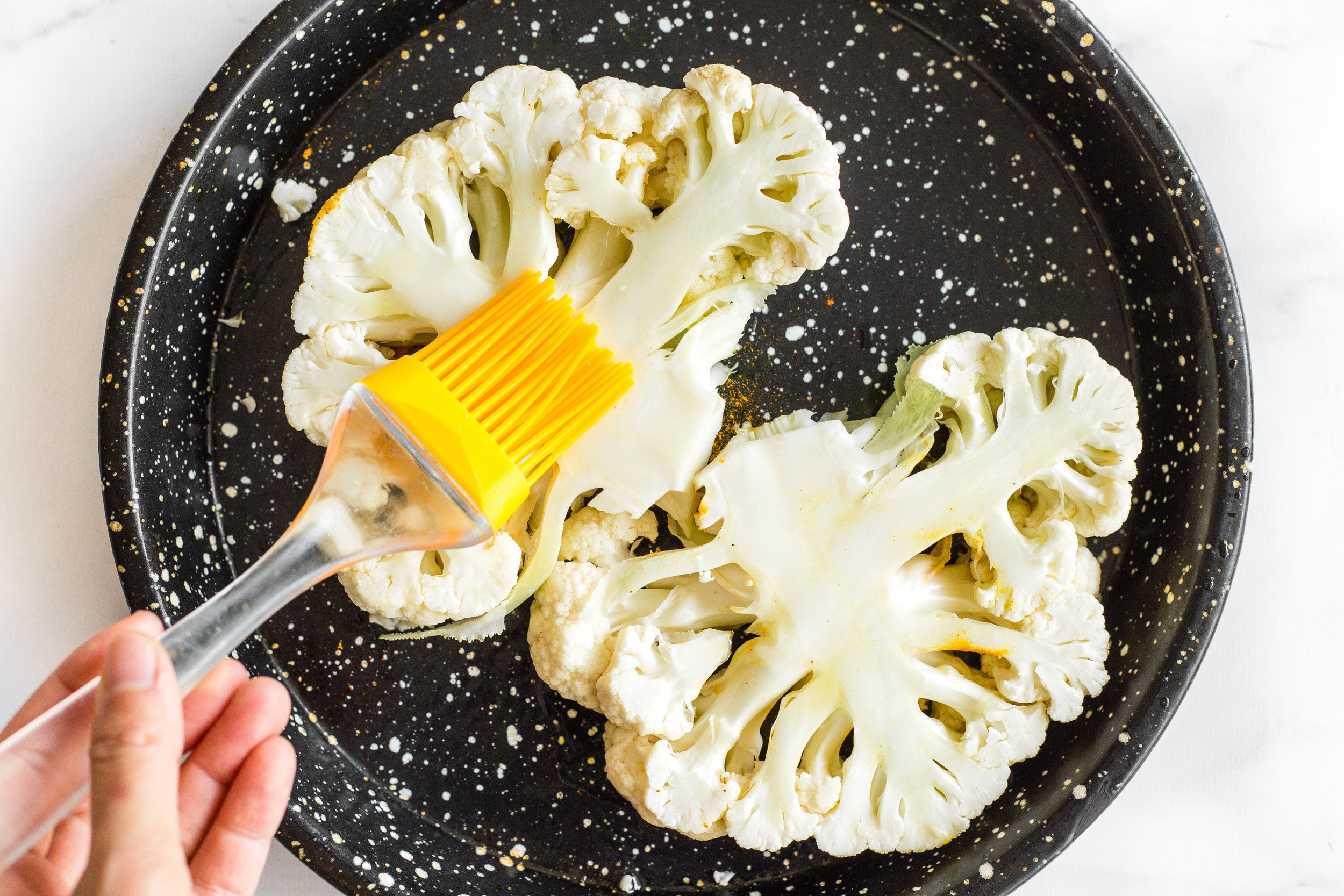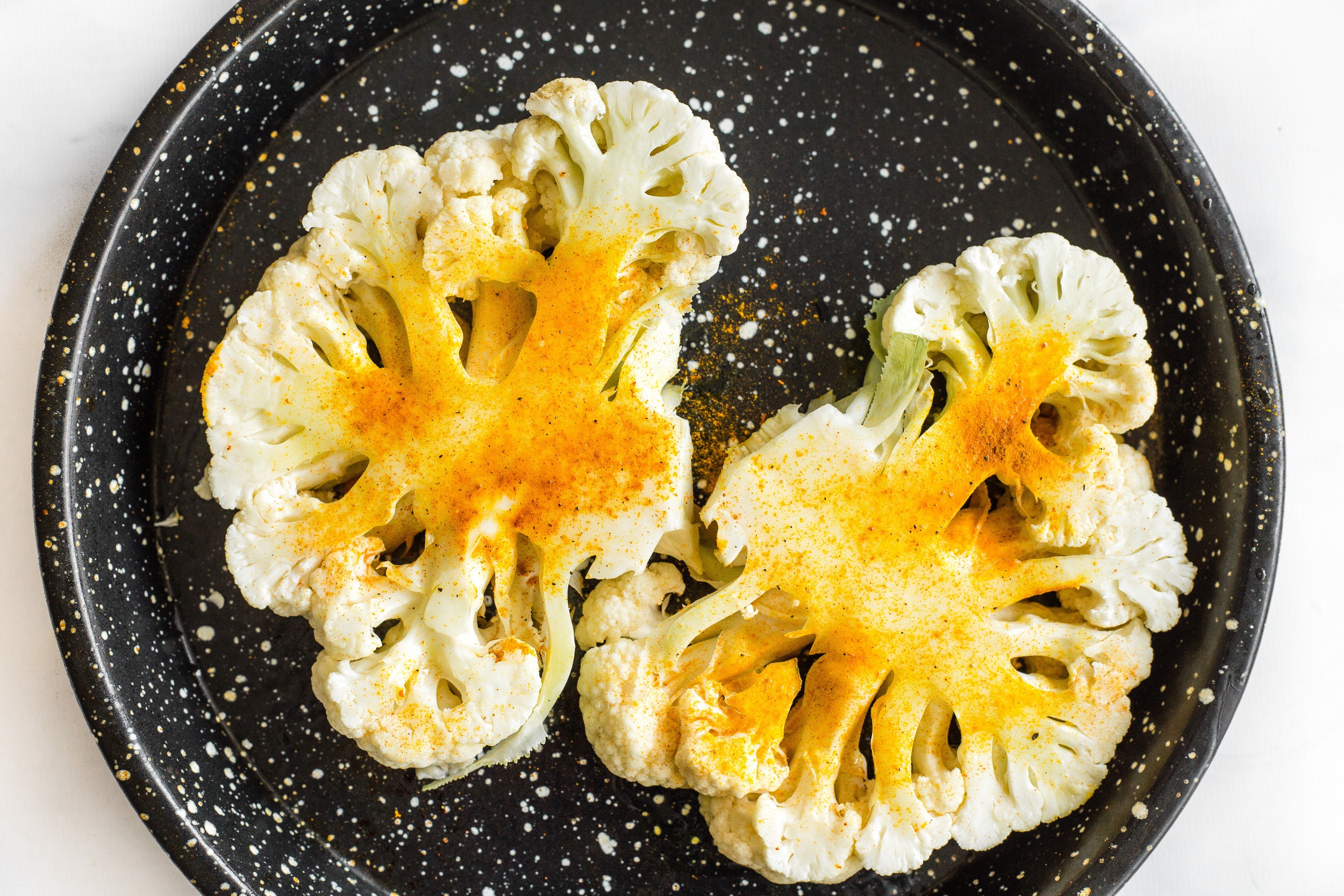 For hundreds of pure Paleo recipes be sure to check out The Real Paleo Diet Cookbook and The Real Paleo Diet Fast and Easy.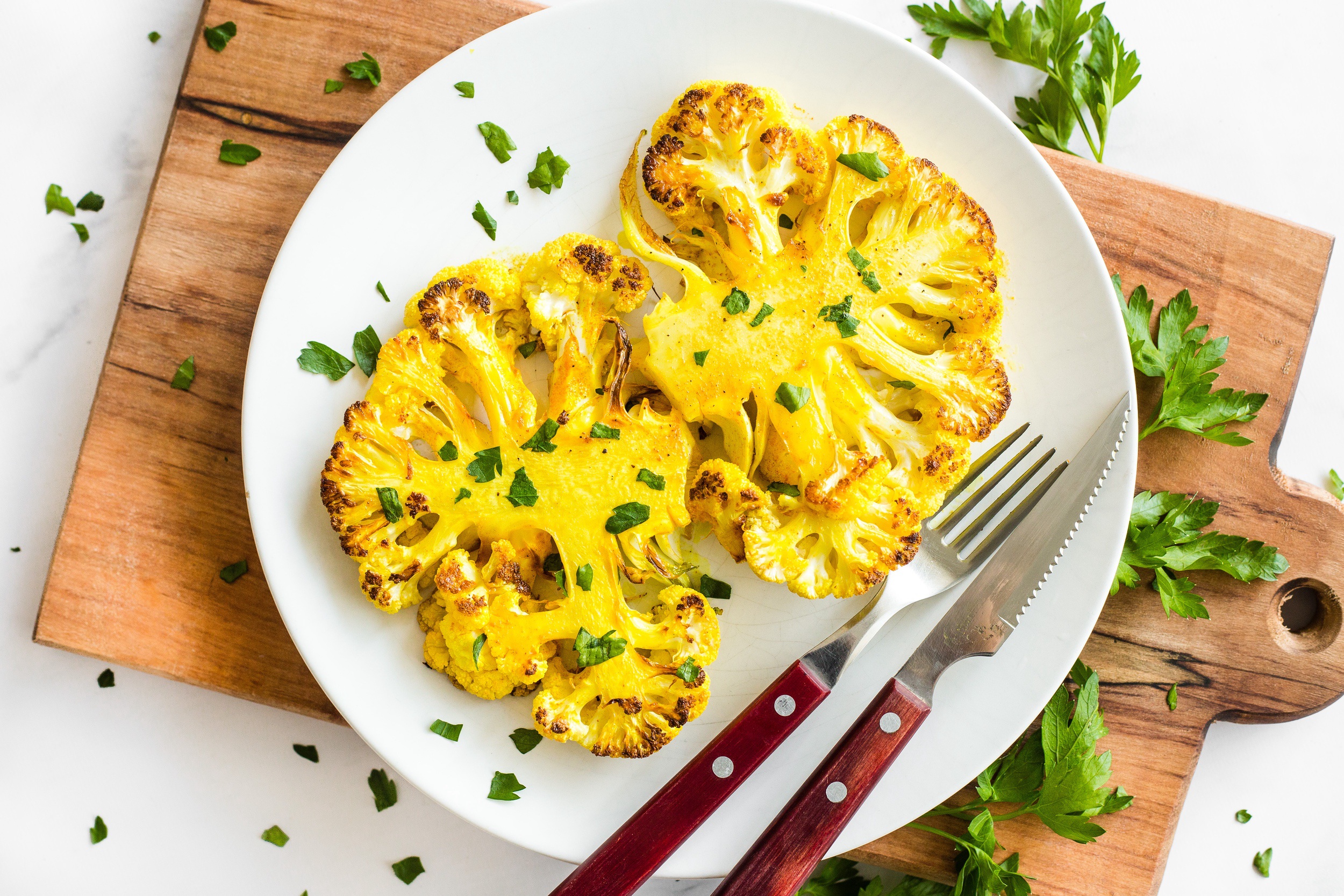 Details
Prep Time:

5 minutes

Cook Time:

25 minutes

Total Time:

30 minutes
Ingredients
1 large head cauliflower, cut into "steaks"

1/4 cups olive oil

1/4 tsp ground turmeric

1/4 tsp ground black pepper

1/4 tsp ground paprika

1/4 cups fresh chopped parsley, for garnish
Directions
Preheat the oven to 500°F and adjust the rack to the lower third position.

Brush each side of the cauliflower steaks with olive oil and sprinkle each side with turmeric, black pepper, and paprika.

Place the steaks on a rimmed baking sheet and roast for 15 minutes, and then flip over and roast for another 10 minutes.

Garnish with fresh chopped parsley and serve.