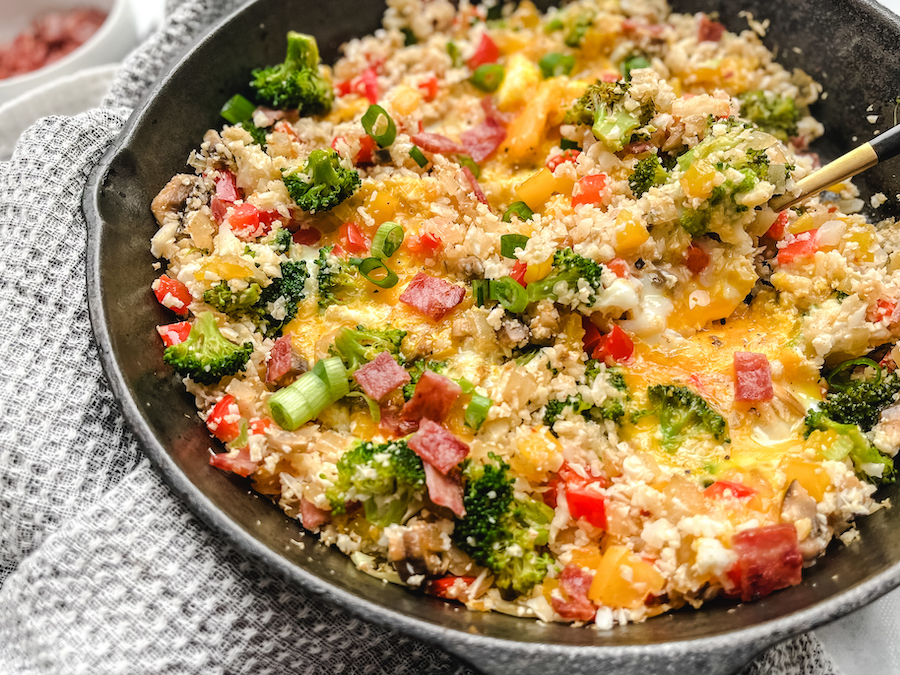 Breakfast Fried Cauliflower Rice
Who says fried rice is only for lunch and dinner? We use eggs and pork belly in this one-skillet recipe to make this classic Asian dish breakfast-worthy!
Pork belly is a great replacement for processed bacon, which is full of salt and nitrates that are definitely not Paleo. Chop them into small bits and fry them until brown and crispy, like you would with bacon. Then use the fat left behind to flavor the rest of the ingredients!
Use a large lidded pan or Dutch oven for this recipe, since we're going to fit a lot of tasty veggies in there. Start by frying up the pork belly, then use a slotted spoon or tongs to set it aside. Next, melt some coconut oil and fry diced onions and colorful bell peppers until soft, then add the mushrooms and broccoli florets. You can use any variety of mushrooms you like. We used cremini, but you could also use shiitake or whatever you have on hand. Season with black pepper, smoked paprika, cumin, and red pepper, then stir well.
Once the veggies are soft, add the cooked pork belly back to the skillet, along with a head of riced cauliflower. Tip: To save on prep, you can buy cauliflower already riced. About 3 cups will do the trick. Cook a minute or two to tenderize the cauliflower rice, then create 3 wells in the mixture and crack an egg into each. Cover and cook until the eggs are done to your liking. Garnish with sliced green onions, serve it up, and dig in!
Tips:
Get creative with your veggies! Sliced pre-cooked sweet potatoes, fresh zucchini slices, or quartered Brussel sprouts would all work great here.
Can't find pork belly? Chicken thighs or ground turkey would make delicious replacements.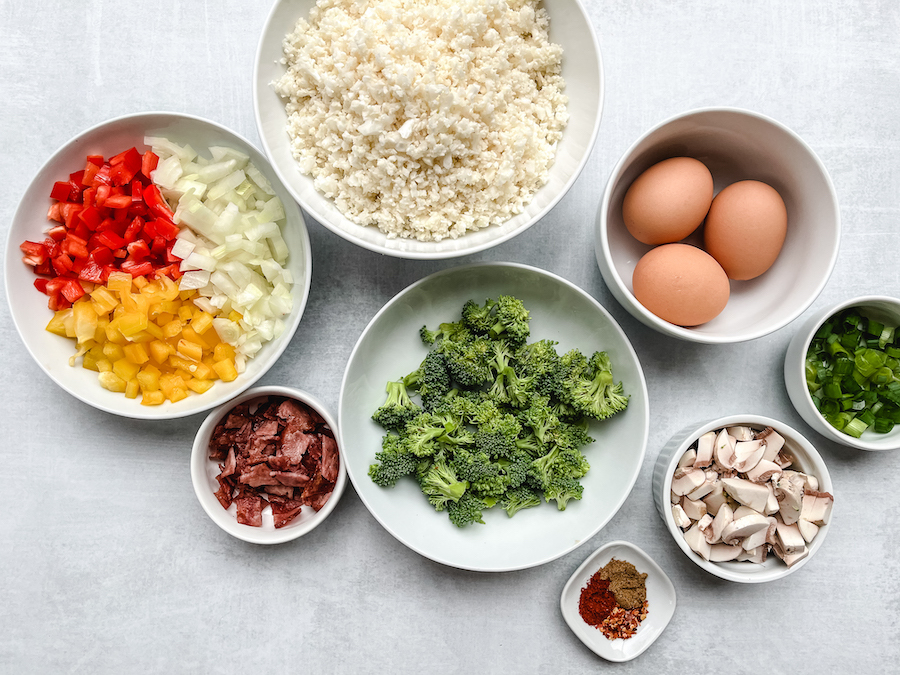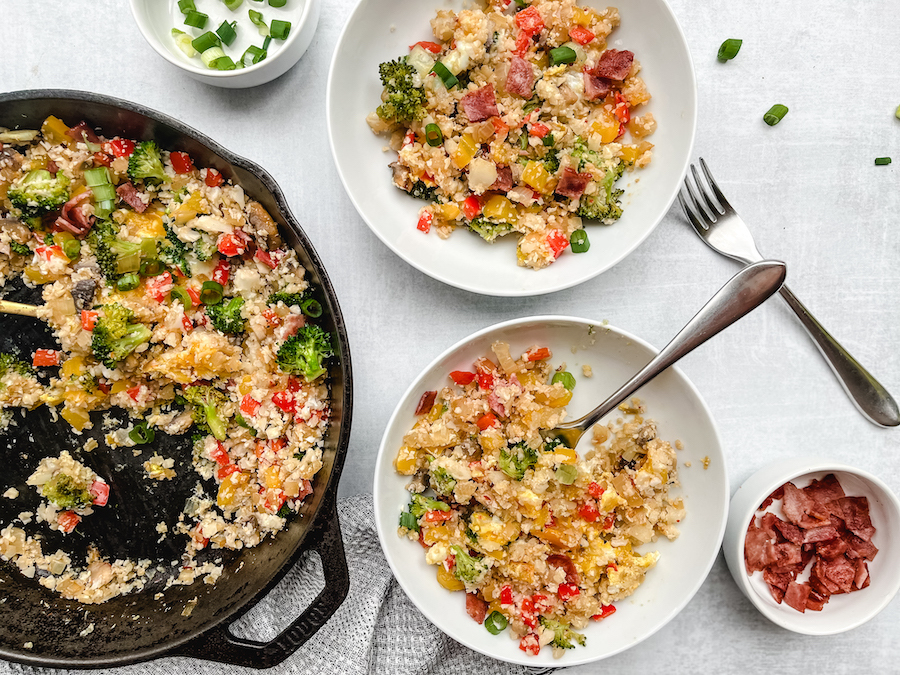 Details
Recipe by: Jess Case
Serves:

3

Meal:

Breakfast
Prep Time:

10 minutes

Cook Time:

20 minutes

Total Time:

30 minutes
Ingredients
4 slice pork belly, chopped

2 tbsp coconut oil, divided

1 small onion, diced

1/2 cups red bell pepper, diced

1/2 cups yellow bell pepper, diced

1 cups broccoli florets

1/4 cups mushrooms, diced

1/4 tsp black pepper

1/4 tsp smoked paprika

1/4 tsp cumin

1/8 tsp red pepper flakes

1 cauliflower head, riced

3 eggs

1/4 cups green onions, sliced
Directions
Heat a medium skillet with a lid or Dutch oven over medium high heat. Once hot, add the pork belly and cook until it's brown and crispy, about 8 minutes. Set aside.

Lower the heat to medium low. Add 1 tablespoon of the coconut oil to melt. Add the diced onions and peppers and cook until translucent, about 5 minutes.

Add the remaining tablespoon of coconut oil along with the broccoli and mushrooms. Sprinkle in the spices and mix well. Cover and cook for a minute or so, until the broccoli and mushrooms are soft.

Remove the cover and add the cooked pork belly and cauliflower rice, and stir well. Cook another minute or so.

Form three wells in the mixture, and crack an egg into each one. Cover the pan and cook about two minutes for runny eggs, a few minutes longer if you like the yolks cooked through.

Garnish with more black pepper and sliced green onions, and serve!