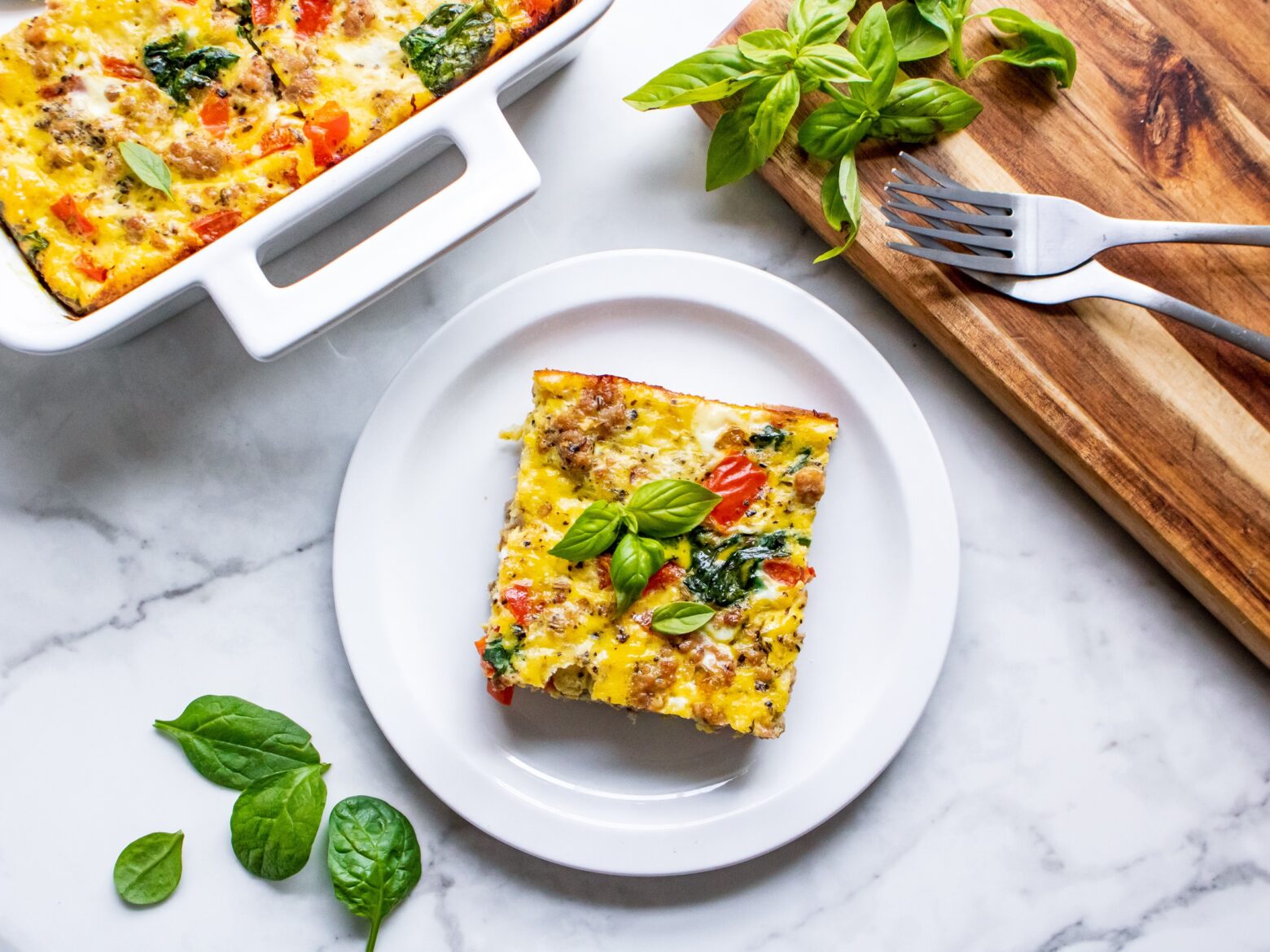 Protein-Packed Breakfast Casserole
Start your day with this tasty breakfast casserole. It's filled with protein from eggs, pork, and green veggies for a powerful start to your morning!
Are you getting enough protein? Your body needs protein from food in order to repair and build muscle, keep your energy up, and stay full in between meals.
Meat is one of the best sources of protein, but eggs and certain vegetables can be great sources as well. This breakfast casserole contains pork and spinach mixed with healthy scrambled eggs, so you can easily get all your essential amino acids in every serving.
This breakfast casserole is ideal for meal prep because it's so versatile. You can swap the pork with ground turkey, chicken, or beef, substitute kale for spinach, or mix it up with broccoli instead of bell peppers. Keep it fresh and make a different version every week.
Start by browning plain ground pork—don't worry, you'll add the seasonings later. Use a spatula to break up the meat while you're cooking. Carefully drain the fat to minimize greasiness, leaving just enough in the pan to cook the spinach and bell peppers. Season with garlic, fennel seeds, basil, and oregano, cooking until the spinach is just wilted. Pour the mixture into a casserole dish.
Whisk the eggs with the almond milk in a mixing bowl, then pour the egg mixture over the meat and veggies. Bake in a preheated oven for about 45 minutes, or until the eggs are set.
Serve warm with fresh basil, or transfer to an airtight container (once cooled) to set in the refrigerator for a week's worth of protein-packed goodness!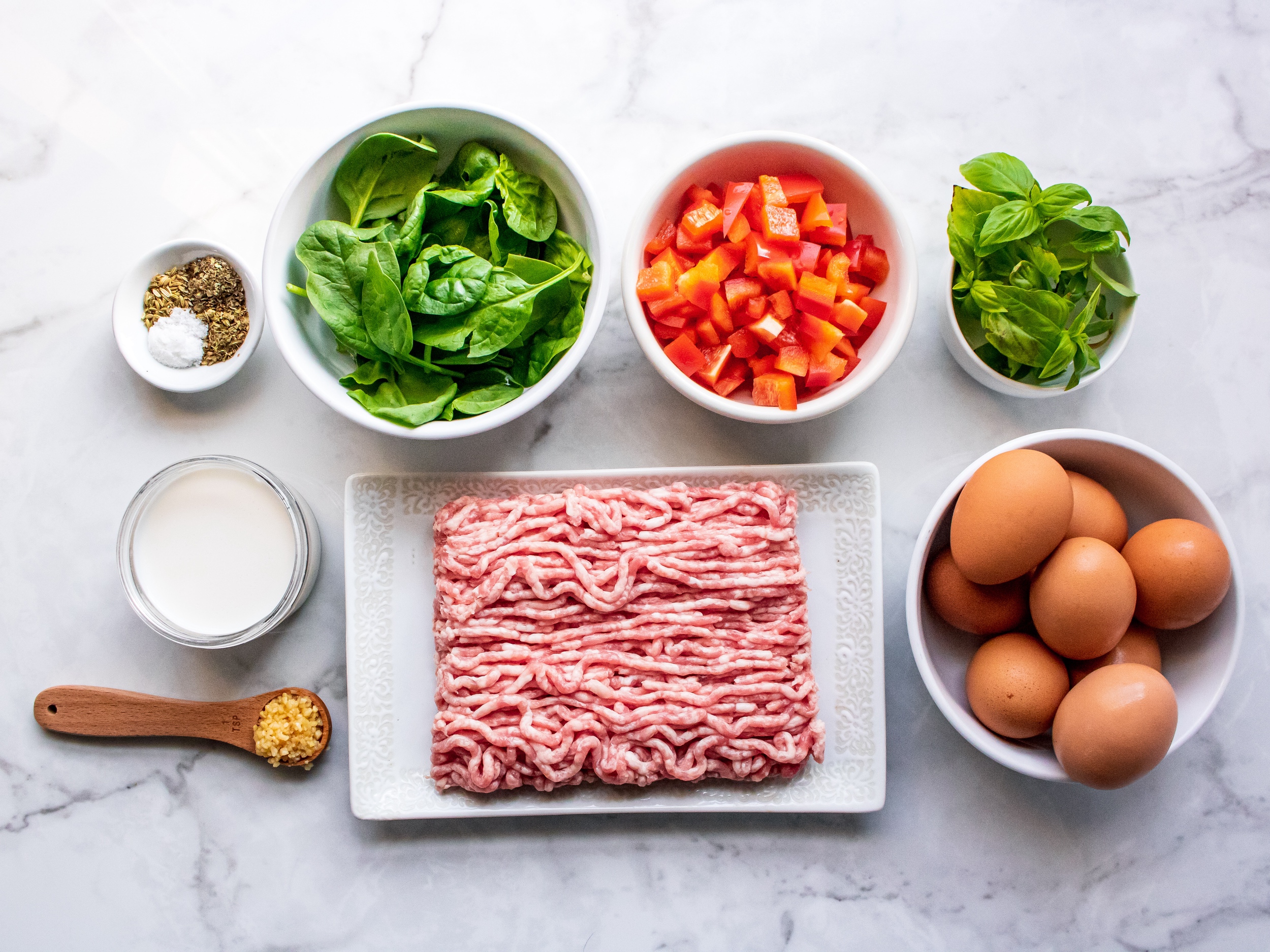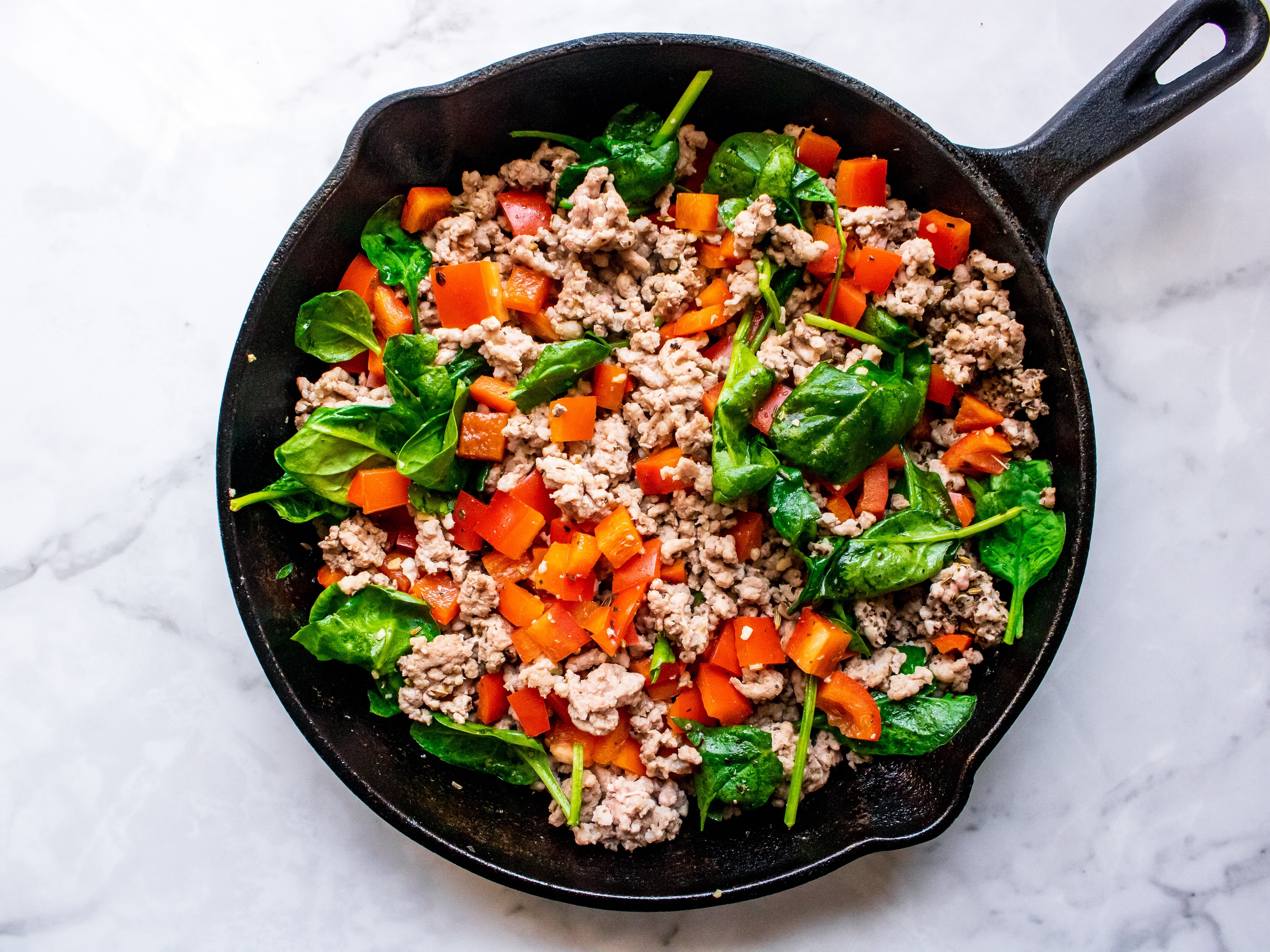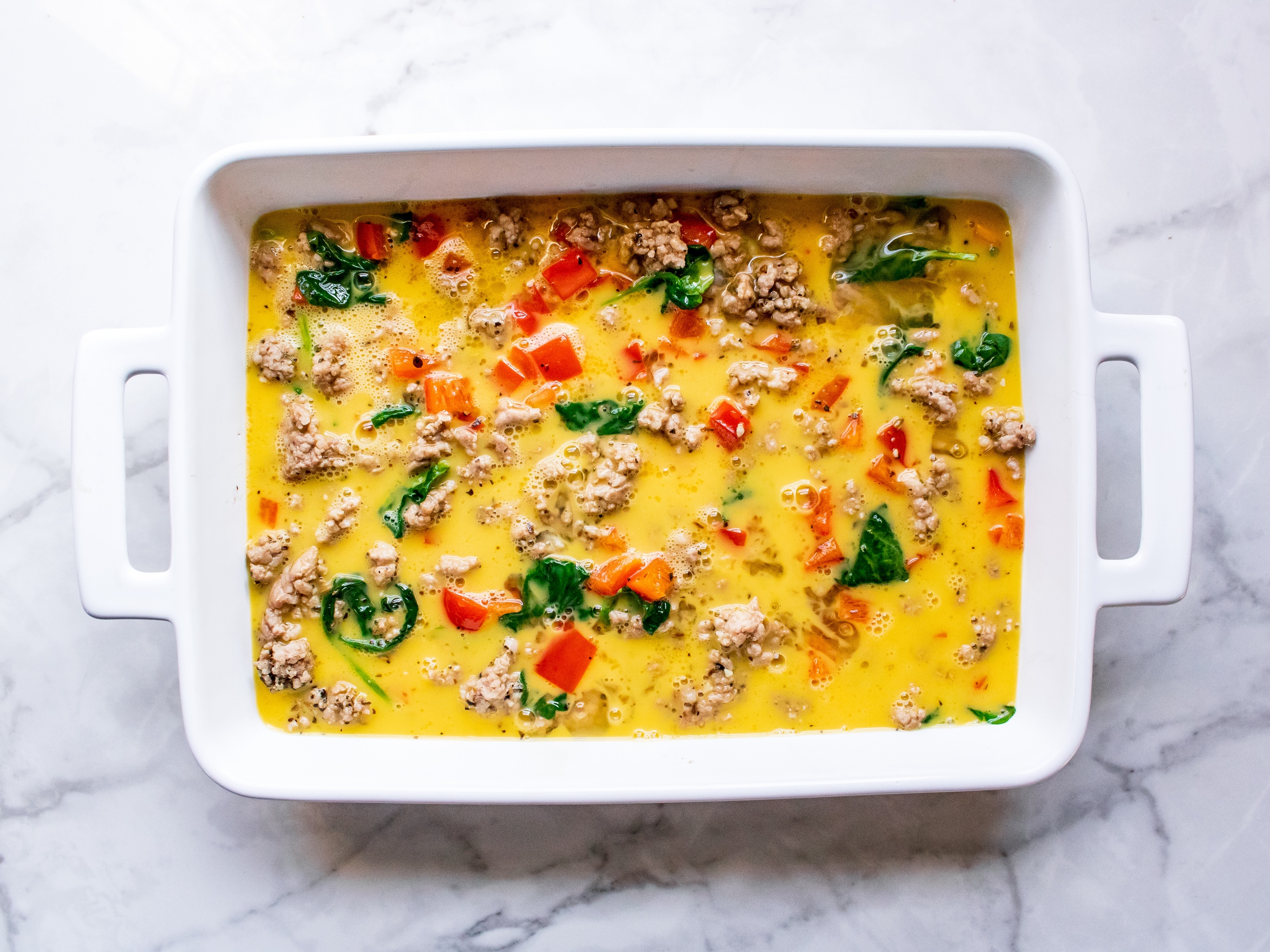 For hundreds of pure Paleo recipes be sure to check out  The Real Paleo Diet Cookbook  and  The Real Paleo Diet Fast and Easy.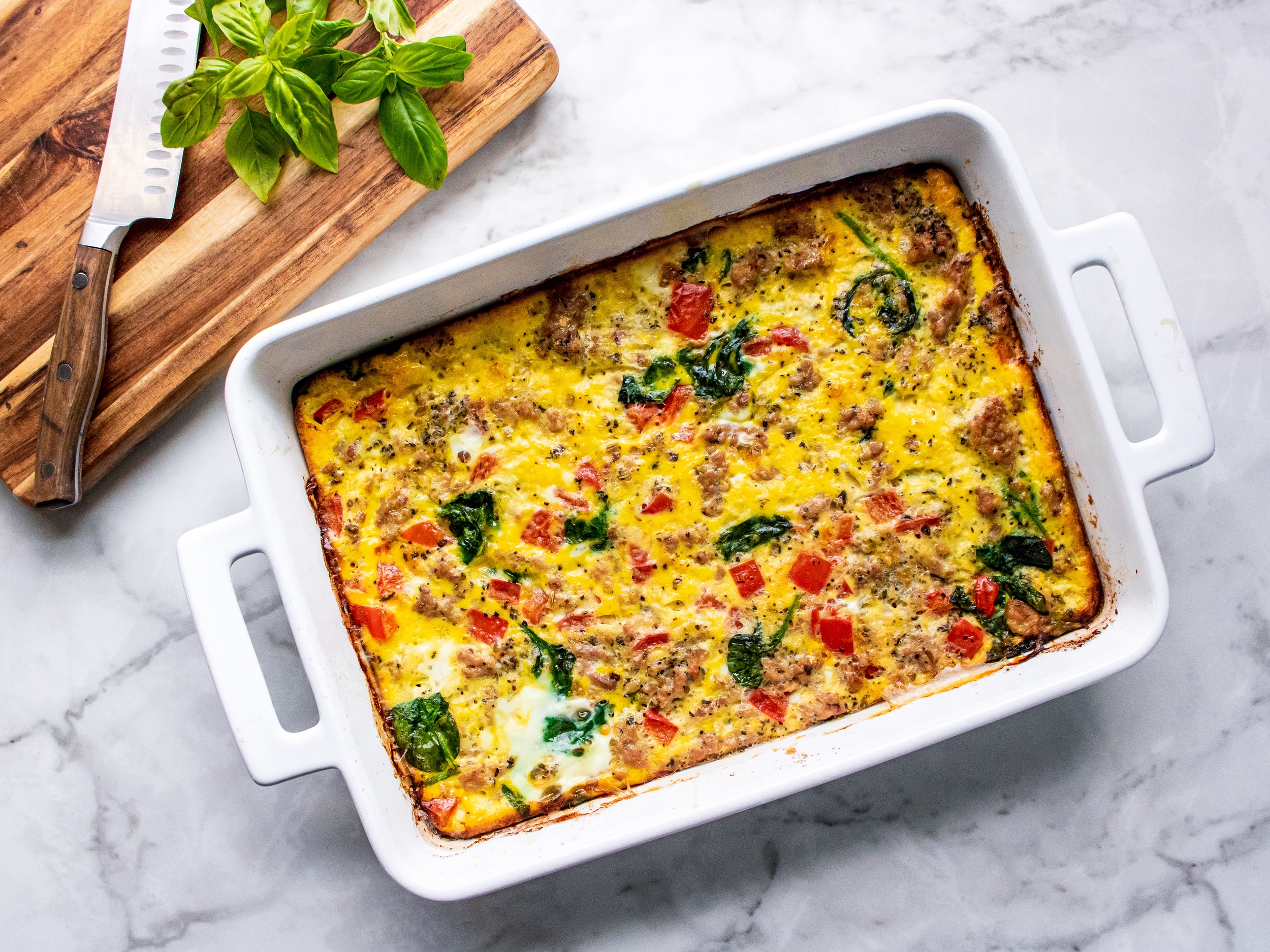 Details
Prep Time:

10 minutes

Cook Time:

55 minutes

Total Time:

1 hour 5 minutes
Ingredients
1 lb ground pork

1 tsp minced garlic

1/2 tsp fennel seeds

1/2 tsp dried basil

1/2 tsp dried oregano

2 cups baby spinach

1 cups red bell pepper, chopped

8 large pasture-raised eggs

1/2 cups unsweetened almond milk

1/2 cups fresh basil leaves for serving
Directions
Preheat the oven to 350°F.

Heat a cast iron skillet over medium heat and add ground pork. Brown for 7 minutes, stirring occasionally.

Carefully drain grease from the pan and return to the heat. Stir in garlic, fennel seeds, basil, and oregano.

Add spinach and bell pepper. Stir and cook for 3 minutes longer to wilt spinach.

Spread the pork and vegetable mixture into a casserole dish about 8x11 inches.

In a mixing bowl, whisk together the eggs and almond milk. Pour over the ground pork mixture and bake for 45 minutes.

Cool at room temperature for 10 minutes before slicing into 6 squares. Top with fresh basil and enjoy.