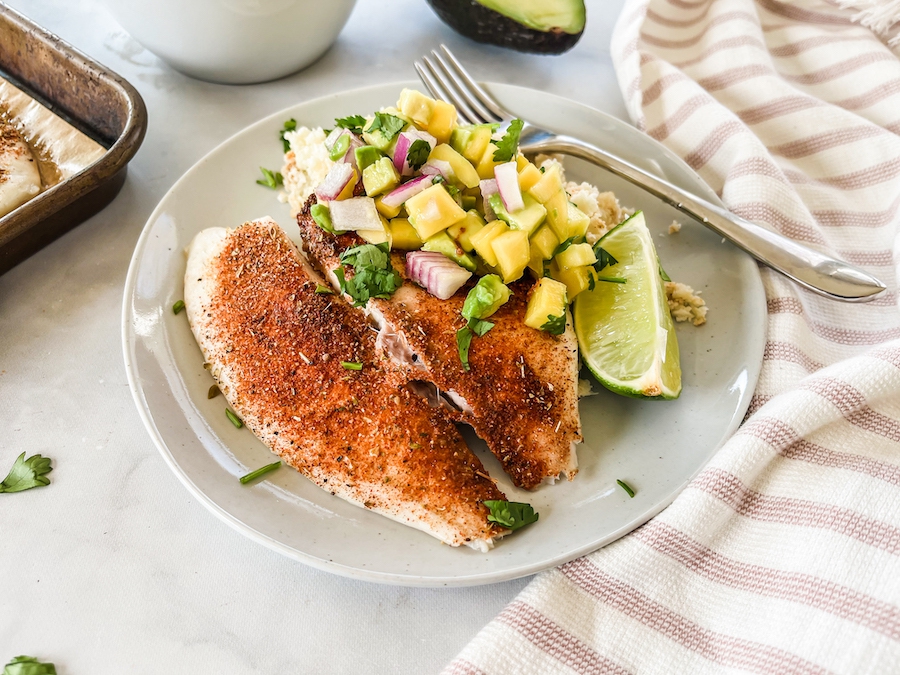 Blackened Tilapia with Mango-Avocado Salsa
Tilapia fillets are rubbed in a zesty spice blend and baked until flaky, then topped with a sweet mango-avocado salsa!
If you haven't baked tilapia before, you're in for a treat. It's a mild, sweet-tasting white fish that cooks up quickly and easily, and is affordable to boot.
It's true that most tilapia is farm-raised, but that doesn't mean that it's bad for you! Farm-raised fish can still be sustainable, and it contains lots of protein and healthy omega-3 fatty acids. You'll also get a good dose of vitamins and minerals like choline, vitamin B12, and niacin in each flaky fillet.
This fast and easy recipe shows the versatility of tilapia. We jazz up its mild flavor with a zesty spice rub, then amp up the sweetness with a simple salsa that we prepare while the fish bakes.
If you have an air fryer, you can make this recipe even faster! Simply preheat the air fryer to 400°F and grease the basket or tray with avocado oil. Place the spice-rubbed fish in the basket without touching each other. It should be ready in about 10 minutes.
When the fish is ready, squeeze fresh lime juice all over the top and serve alongside the mango-avocado salsa. This pairs great with cauliflower rice—it soaks up all those tasty juices! To make it super quick, just grab a bag of frozen cauliflower rice and reheat it on your stovetop with a bit of olive oil.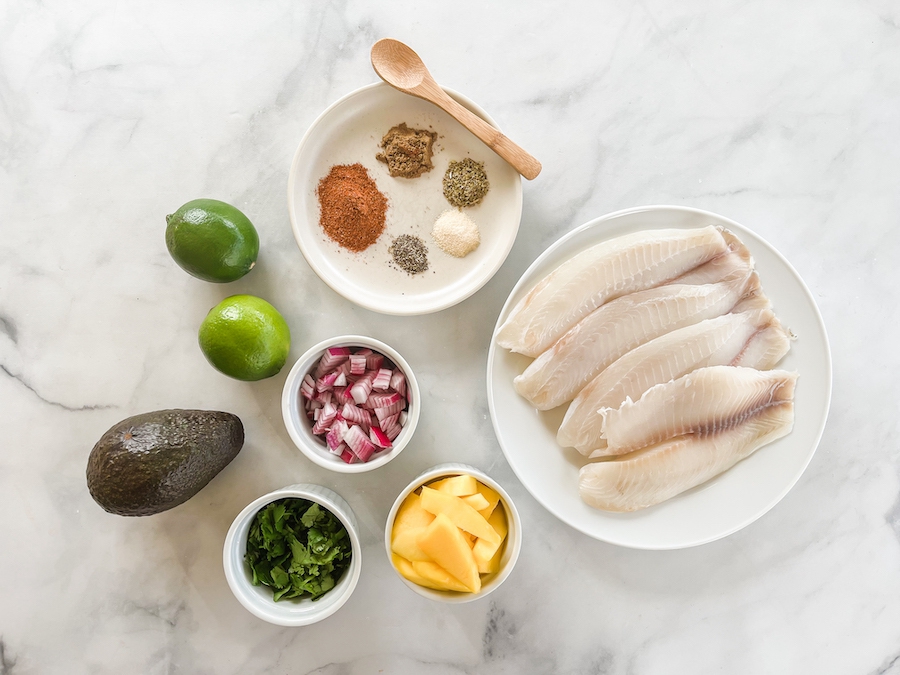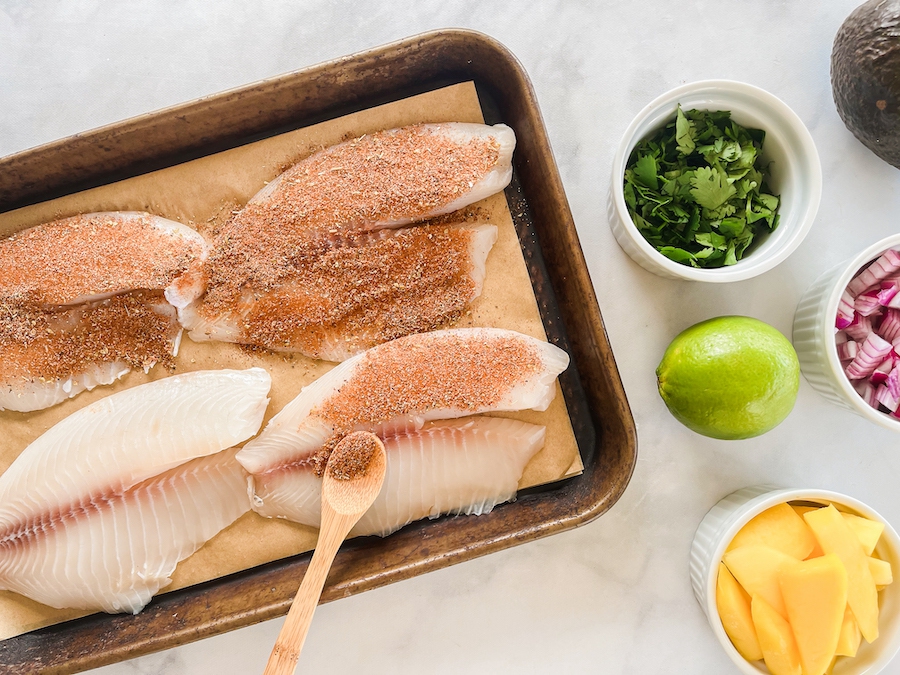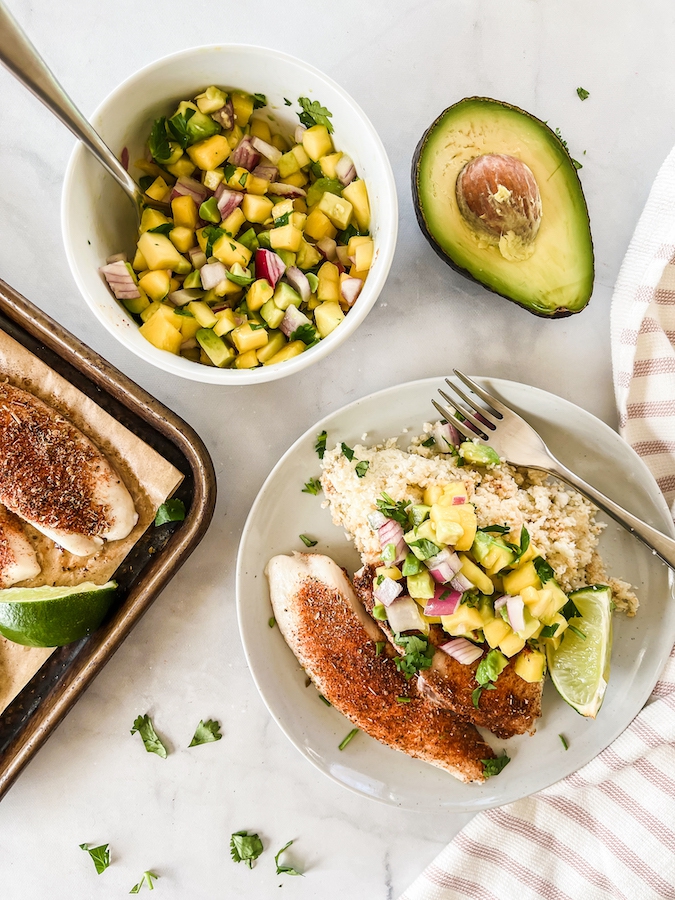 For hundreds of pure Paleo recipes be sure to check out The Real Paleo Diet Cookbook and The Real Paleo Diet Fast and Easy.
Details
Prep Time:

10 minutes

Cook Time:

10 minutes

Total Time:

20 minutes
Ingredients
2 tbsp chili powder

2 tsp cumin

1 tsp onion powder

1/2 tsp oregano

1/4 tsp smoked paprika

1/4 tsp black pepper

4 tilapia fillets (6-8 ounces each), patted dry

1 mango, diced

1 avocado, diced

1/2 red onion, finely chopped

1/2 cups fresh cilantro, chopped

2 limes

Cooked cauliflower rice, for serving (optional)
Directions
Preheat the oven to 400°F and line a baking sheet with parchment paper.

Combine all the spices in a small bowl and mix well. Rub the spice blend onto both sides of the tilapia fillets and set on the prepared baking sheet.

Bake for 10-14 minutes, or until it flakes easily with a fork.

While the fish is cooking, prepare the salsa. In a small bowl, add the mango, avocado, red onion, cilantro and the juice of one lime. Stir well.

When the fish is done baking, drizzle the tilapia with the juice of the second lime. Serve with cauliflower rice, and top with the mango-avocado salsa.