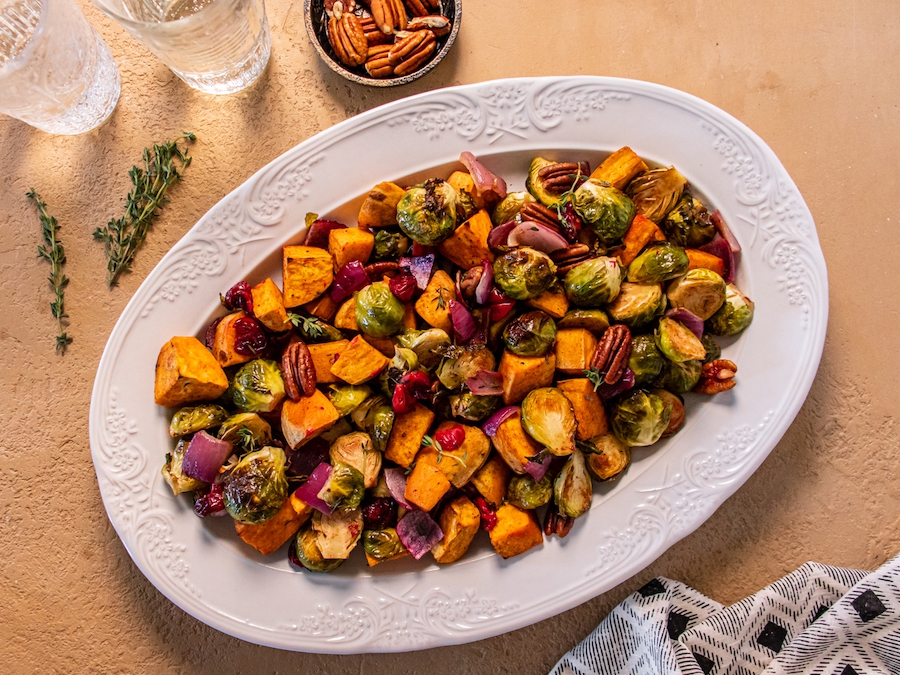 Apple Cider Roasted Vegetables
Nothing says fall like seasonal veggies with an apple cider glaze.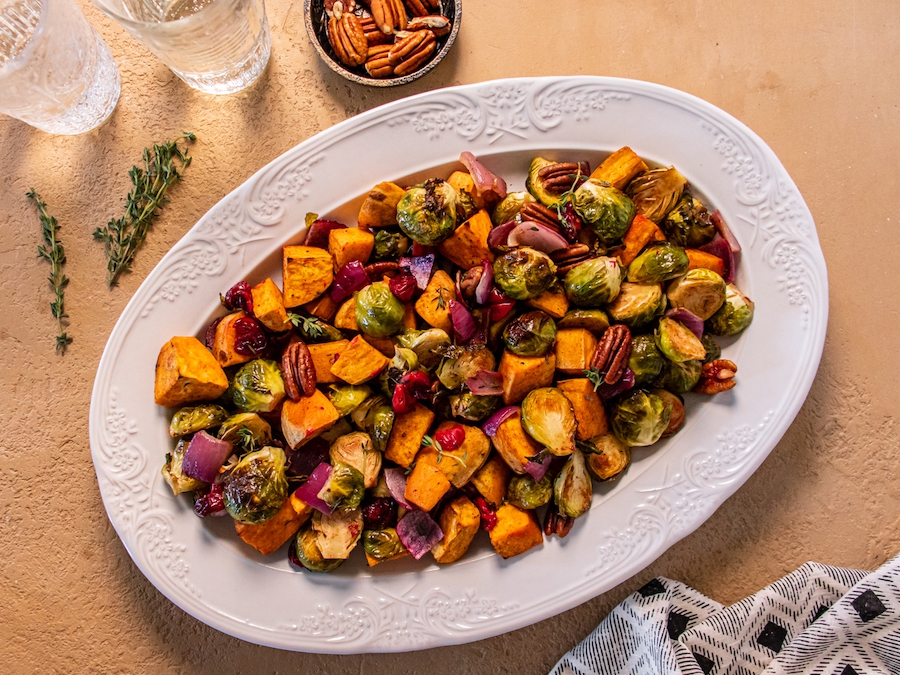 For the perfect fall side dish, toss hearty veggies in a fragrant apple cider vinaigrette and roast until crispy!
Nothing says fall like seasonal veggies with an apple cider glaze. We used Brussels sprouts and sweet potatoes in this recipe, but any hearty veggie will work nicely here. Try adding or swapping in chopped beets, carrots, or butternut squash if you have those on hand. If you don't have fresh cranberries, you can omit them, but we recommend including them for little bursts of holiday sweetness.
To make the vinaigrette dressing, use a Mason jar with a tight lid and simply shake up the olive oil, apple cider, apple cider vinegar, black pepper, and cinnamon for a sweet/savory roasting sauce. Be sure to use apple cider without any added sugar. You can even make your own!
You'll also want to use raw apple cider vinegar with "the mother" for enzymes and probiotics that help boost gut health.
Pour half of this healthy vinaigrette dressing over the veggies, spread in a sheet pan, and roast at 400ºF for 20 minutes, stirring halfway. Then, add raw pecans and fresh thyme leaves to the mix, finish with the remaining vinaigrette, and roast until the nuts are toasted and fragrant, about 8 to 10 minutes more.
Serve your apple cider veggies hot out of the oven and enjoy while they're still crisp. Enjoy with your favorite Paleo main dish for a complete dinner.
Tips:
You can add rosemary, garlic, sage, or other herbs to the vinaigrette, or in place of the thyme.
Walnuts or almonds can be substituted for pecans.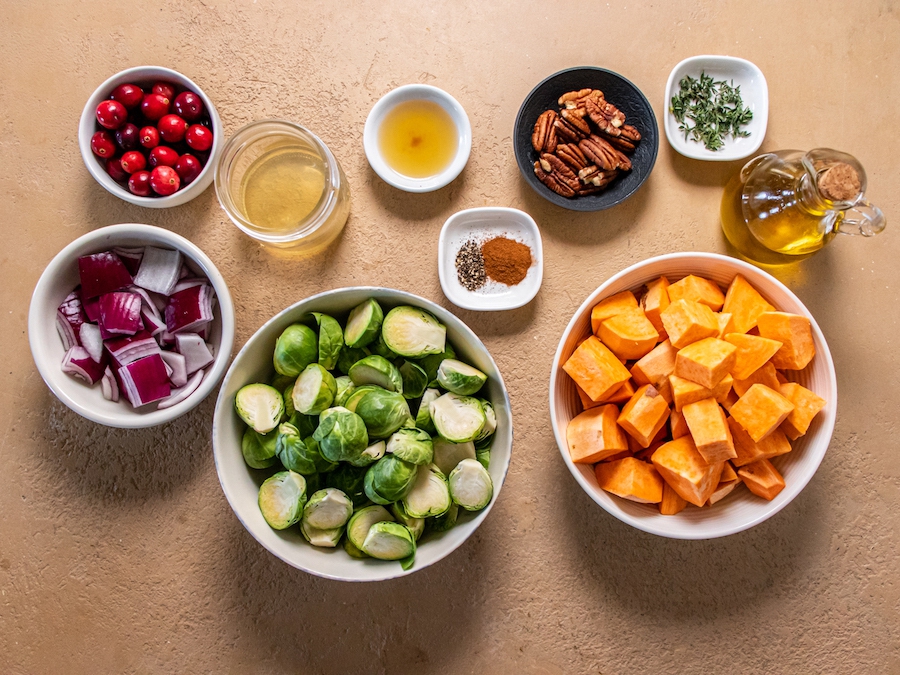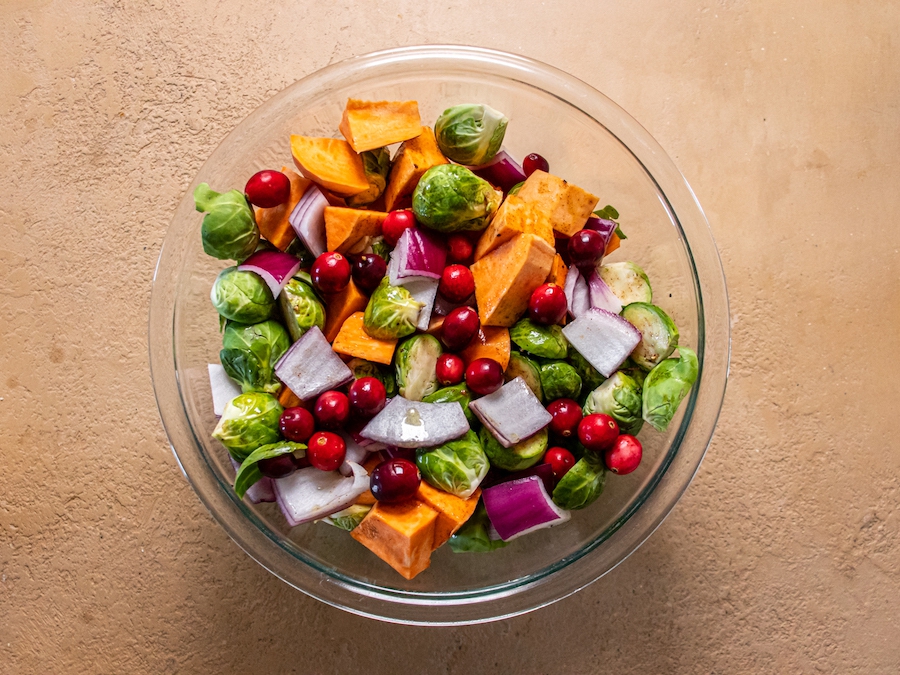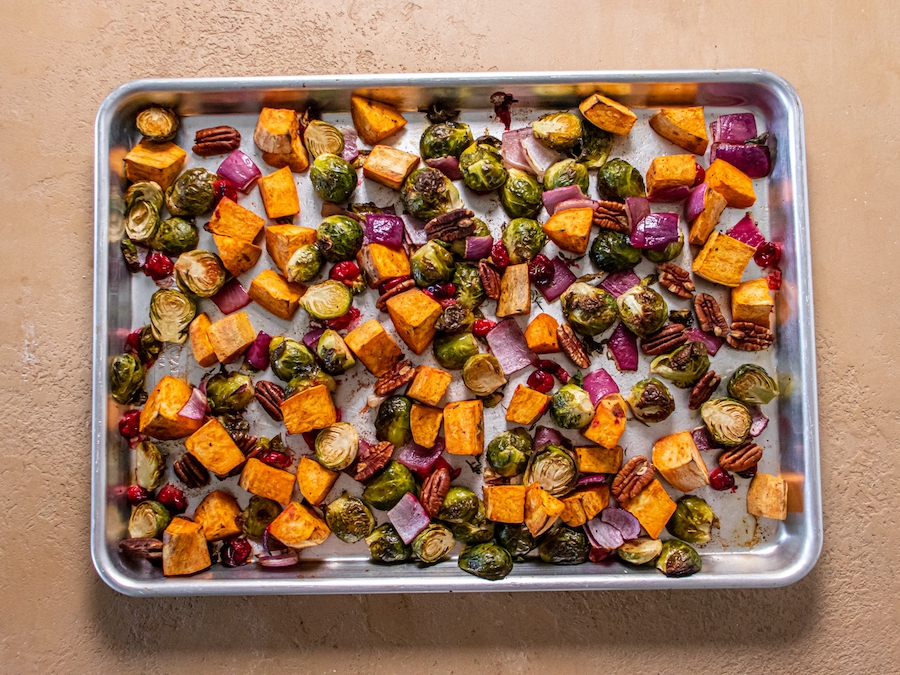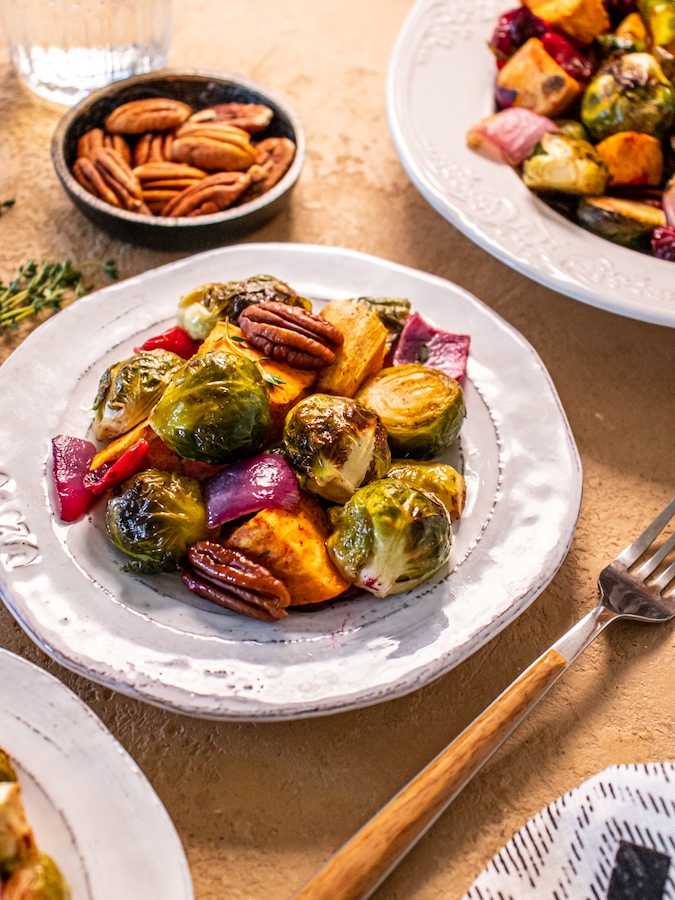 For hundreds of pure Paleo recipes be sure to check out The Real Paleo Diet Cookbook and The Real Paleo Diet Fast and Easy.
Details
Serves:

6

Prep Time:

10 minutes

Cook Time:

30 minutes

Total Time:

40 minutes
Print this Recipe
Ingredients
4 cups Brussels sprouts, ends trimmed and halved

3 cups sweet potato, peeled/chopped

1 cups red onion, coarsely chopped

1/2 cups fresh cranberries

3 tbsp olive oil

2 tbsp unsweetened apple cider

1 tbsp raw apple cider vinegar

1/4 tsp cinnamon

1/8 tsp cracked black pepper

1/3 cups raw pecan halves

2 tsp fresh thyme leaves
Directions
Preheat the oven to 400ºF. Combine the Brussels sprouts, sweet potato, red onion and cranberries in a large mixing bowl.

To make the vinaigrette, add the olive oil, apple cider, apple cider vinegar, cinnamon and black pepper to a small jar. Secure the lid and shake well to mix. Pour half of the mixture over the vegetables and mix well. Reserve the remaining vinaigrette.

Pour the vegetables on a large baking sheet and spread evenly. Bake for 20 minutes, stirring halfway.

Carefully remove the pan from the oven and add the pecans, thyme and remaining vinaigrette. Stir and return to oven for 8-10 minutes longer. Serve hot.