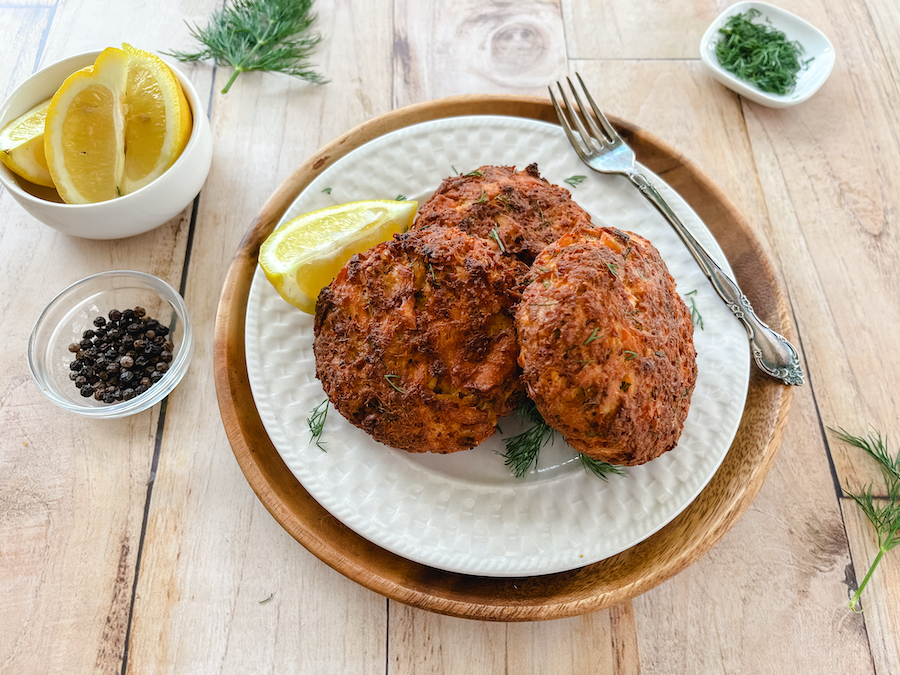 Use an air fryer to make golden, extra-crispy salmon patties in 15 minutes flat! These Air Fryer Salmon Patties are protein-packed, full of inflammation-reducing omega-3s, and just delicious with our Paleo toppings.
If you're looking for a way to use up any cooked salmon sitting in your fridge, these crunchy air fryer patties are it. Simply shred your fish, then mix with fresh dill, mustard, eggs, and coconut flour. Form into patties, then let your air fryer take it from there!
We recommend starting with freshly cooked salmon, though canned salmon can work in a pinch. If you need somewhere to start, our Dijon Mustard Glazed Salmon or Broiled Salmon with Sesame and Scallions are tasty recipes to try the night before.
When you're ready to make your salmon patties, remove the skin and gently shred the fish. Mix with the remaining ingredients until well-combined. If you can't find Paleo mustard at the store (which is low in salt and sugar-free!), you can make your own Dijon-style mustard at home. Just keep in mind that it needs to sit for two days before you can blend it, so be sure to plan in advance.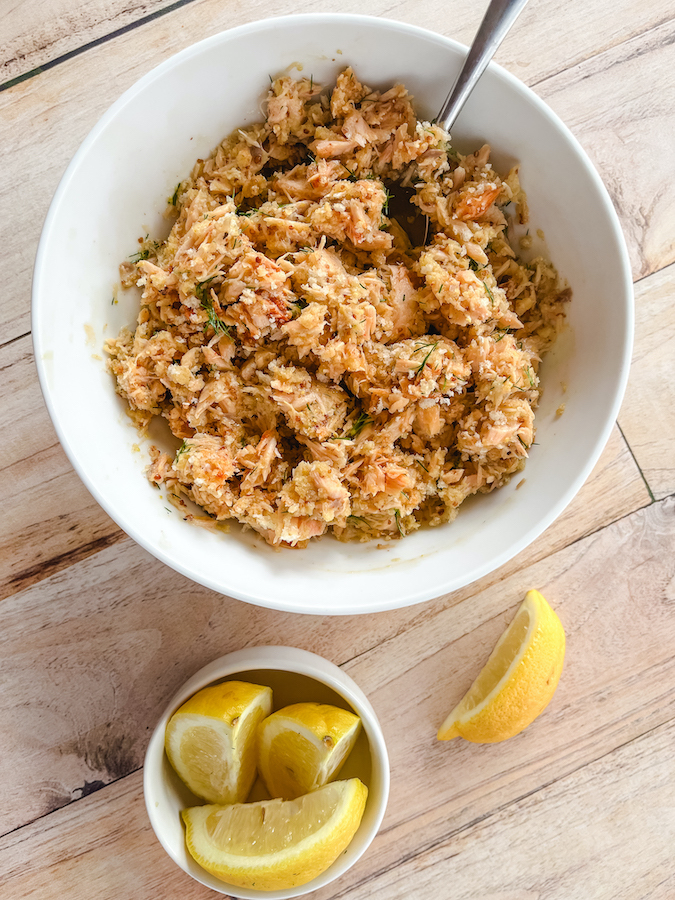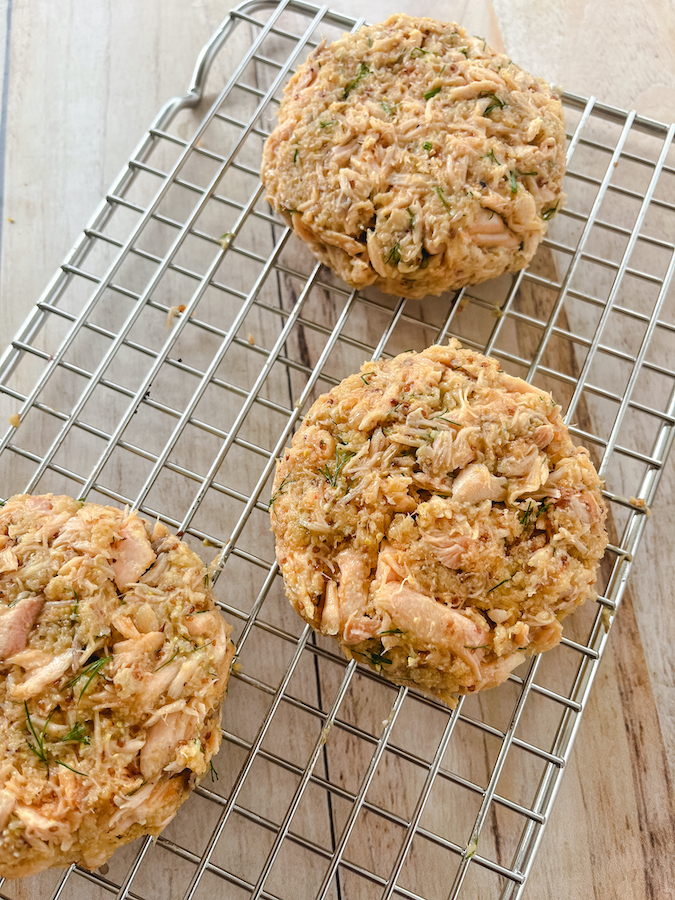 We kept our salmon patty seasoning simple with a bit of black pepper, but you can add other spices like cumin, paprika, chili powder, or garlic powder. Feel free to experiment to see what tastes best to you.
Use your hands to form the mixture into three or four patties, and set on a greased basket in your air fryer. Set to 400°F and let them cook for about 10-12 minutes, or until golden brown and crispy on the outside. Air fryers all work a little differently, so be sure to keep a close eye on them.
Serve your salmon patties hot with a squeeze of lemon, alongside a Paleo mayo dipping sauce if you like. Tip: Mix in a bit of lemon juice with the mayo, then stir in some minced garlic to make a bright aioli!
Enjoy as a side dish or appetizer, or double the recipe and serve them as the main meal alongside a fresh green salad.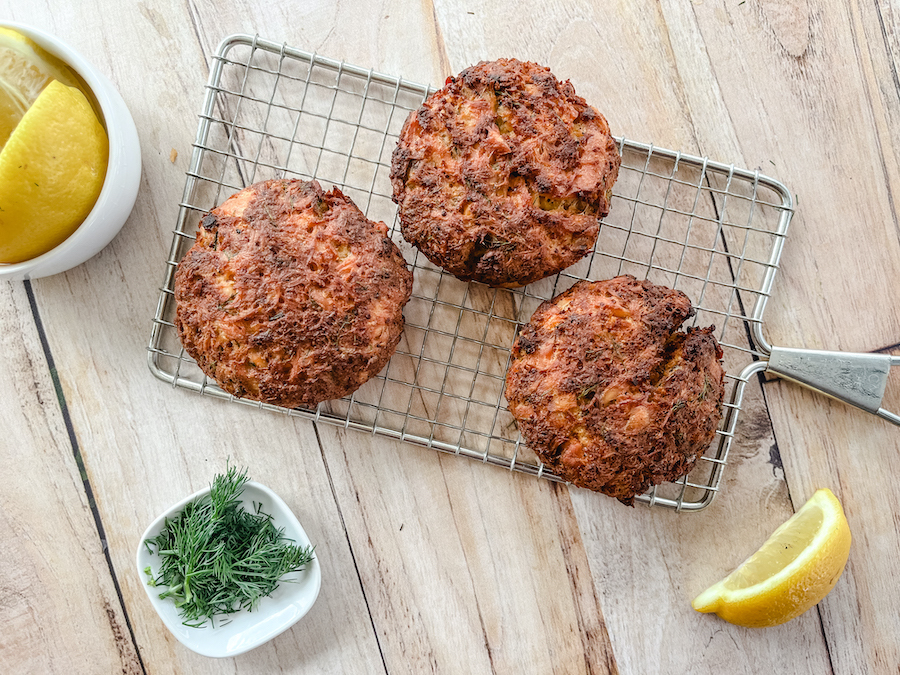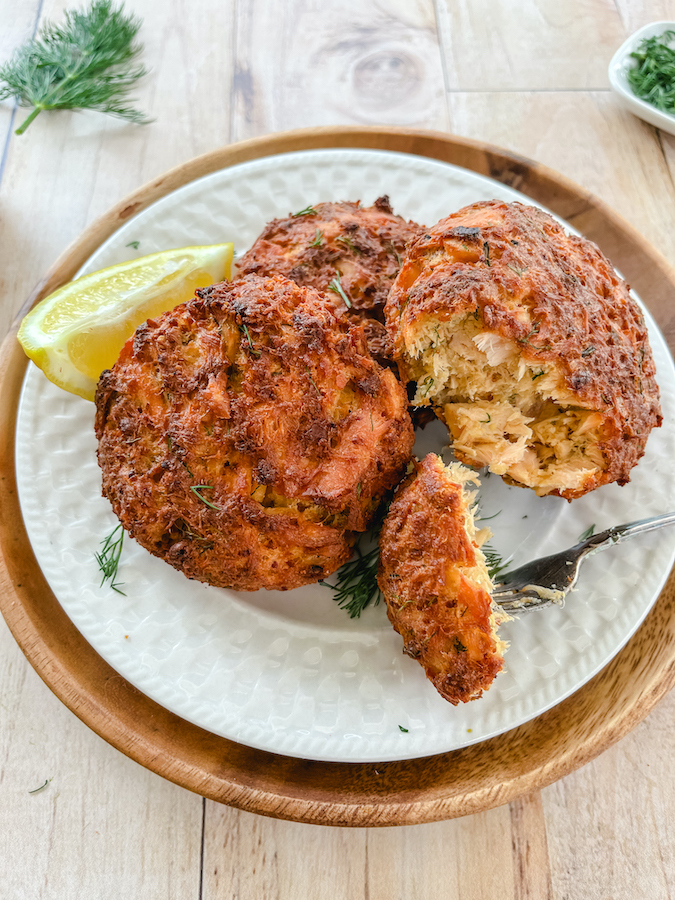 For hundreds of pure Paleo recipes be sure to check out The Real Paleo Diet Cookbook and Real Paleo Fast and Easy.

Details
Prep Time:

5 minutes

Cook Time:

10 minutes

Total Time:

15 minutes
Ingredients
1 1/2 lb cooked salmon, shredded

2 eggs

2/3 cups coconut flour

2 tsp fresh dill, chopped

2 tsp Paleo mustard

1/4 tsp black pepper

1 tbsp avocado oil

Lemon wedges, for serving
Directions
In a medium bowl, gently stir the salmon, eggs, coconut flour, dill, mustard and black pepper until it's fully combined.

Shape the mixture into three or four patties, about three inches across.

Grease the basket of the air fryer with the avocado oil. Place the salmon cakes in the basket and cook at 400°F for 10-12 minutes, or until the patties are golden brown and registers 160 degrees.

Serve with lemon wedges and enjoy!