Natural cleaning alternatives: Can they sanitize effectively?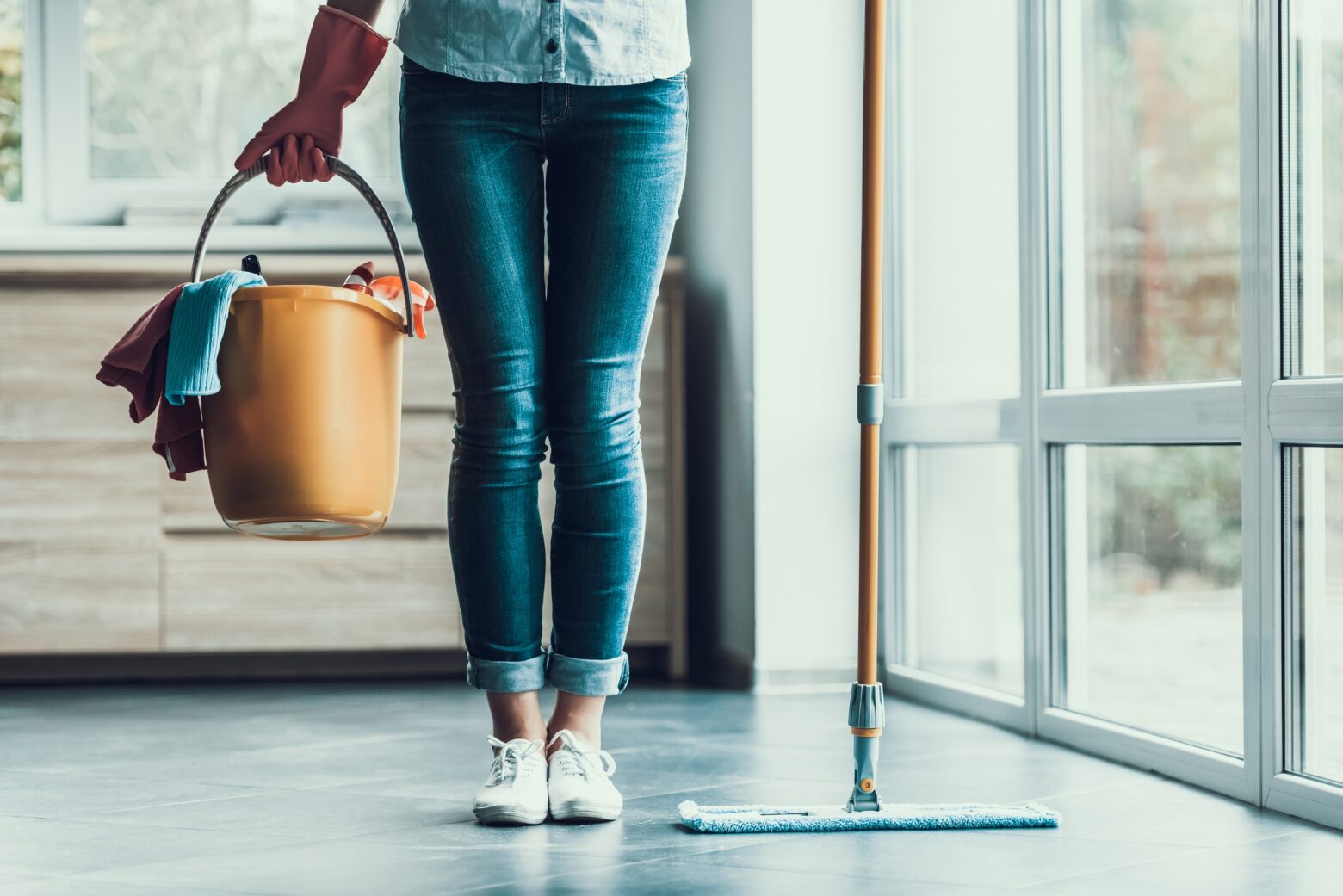 When it comes to cleaning our homes, we all want what's best for our family's health. Now, during the ongoing outbreak of the Covid-19 virus, it's even more important that our cleaning products perform their jobs efficiently and safely.
The demand for novel cleaning products like Lysol and Clorox wipes continue to surge, and some areas are still seeing shortages. Thus, some consumers are looking for practical supplementary cleaning agents. Simultaneously, many people seek alternative cleaners to help protect against infectious diseases and viruses in an effort to eliminate the toxic effects of conventional chemical cleaners.
But not all cleaners are made the same. When it comes to killing the novel coronavirus, greener products aren't enough to use alone. Read on to see which cleaners are best for safely removing the germs, bacteria, and viruses that could be lurking in your home.
The difference between cleaners, sanitizers, and disinfectants
You may have noticed these words being tossed around on different labels and marketing ads, but sometimes it can be tough to know the difference between the three. The Environmental Protection Agency (EPA) recommends using their searchable database (List N) to find products that are most effective at killing SARS-Cov-2, the virus that causes Covid-19.
You can use this as a starting point, but note that most natural cleaners won't be included on the list. The EPA only certifies and regulates products claiming to be sanitizers or disinfectants. In some cases, products can register to be both a cleaner and disinfectant or sanitizer by meeting federal regulated guidelines.
To help understand these terms in more detail, here's a quick breakdown of what each one mean:
Cleaners: Use it as a primer to remove germs
Natural cleaners (like castile soap, which contains benzalkonium chloride, and water) are meant to remove dirt, grime, and debris from surfaces, and are very effective when paired with a sanitizer or disinfectant. Cleaners alone won't kill germs, but they do reduce the amount and make it easier for disinfecting later on. Make it your first step in the cleaning process and wash vigorously to lower the germ count even more. Also note that many cleaners can contain a sanitizer or disinfectant, when approved by the EPA.
Sanitizers: Good for reducing bacteria
When something is labeled as a sanitizer, it means that the product meets EPA standards of reducing 99.9 percent of bacteria. It's often used on items that come in contact with food like silverware or plates and has a short wait time to be effective (usually 30 or 60 seconds).
Keep in mind it won't rid your home of all germs, but it does protect against the spread of infections. Refer to your product's label to see the specific bacteria you can target, and always check the label to ensure it's EPA-approved.
Disinfectants: Use it to destroy viruses
If you're looking to kill or inactivate viruses, you're going to want to look for disinfecting products. These compounds can kill up to 99.999 percent of germs, but will require a longer wait time (around 10 minutes) to work effectively. Refer to the EPA's List N to see which ones are certified to successfully tackle the Covid virus.
The dangers of commercial cleaners (& how to handle them safely)
While it might be tempting to buy whatever commercial cleaner is on sale, studies show that increased exposure to most store-bought varieties can lead to health risks like asthma or other respiratory issues. (1)(2). The problem with most conventional cleaners is that they have minimal regulations set in place for safety protocols. According to the Environmental Working Group (EWG), a non-profit information site, the long-term effects of these chemicals are largely unknown:
"Although government scientific and regulatory agencies have focused considerable attention on chemicals suspected of causing cancer, they have devoted far fewer resources to evaluating substances that may be toxic to the brain and nervous system, the hormone system and other organs."
The EPA also notes that volatile organic compounds (VOCs)—compounds that easily become inhalable vapors and gases—can be up to 10 times higher in indoor environments. To avoid over-exposing yourself to too many chemicals, it's important to take proper safety precautions when cleaning. Here are a few ways you can protect yourself against harmful chemicals:
Keep your area well ventilated. Open windows and turn on a fan to minimize the risk of inhaling toxic chemicals.
Wear gloves when possible. Gloves will keep your skin safe from any chemical contact, which is especially important when you're handling bleach. You should also consider wearing a pair of goggles to avoid any eye irritations that may stem from fumes.
Avoid mixing cleaners. Some chemicals (like vinegar and bleach) aren't meant to be combined and could cause serious harm to your health. Always check the labels to check if it's safe to combine with other products before using.
The controversy surrounding natural cleaning products
Currently, manufacturers are not required to list ingredients used in household cleaners—including some brands that label themselves as "green" or "natural." It's common practice for some companies to include fragrances, carcinogens, and other toxic chemicals in their products, without labeling them for consumers. (4)
But unlike the food industry, where the EPA sets certain guidelines for organic farmers, there are no federal regulations for companies making natural cleaning products. Many non-profits, like the Environmental Working Group, are working hard to help correct these issues by educating consumers and urging legislators to enforce stricter guidelines.
If you are concerned about the quality of your plant-based cleaners, your best bet is to check out the EWP's Guide to Healthy Cleaning. The organization has dedicated considerable resources to build a database that grades natural cleaners for ingredient safety.
Important facts about DIY and homemade cleaning alternatives
Using common pantry staples to create household cleaners has been an online trend even before the pandemic hit. Natural ingredients like white vinegar and baking soda are widely used as powerful cleaning agents, but they won't be as effective as other EPA-approved disinfectants.(4)
Higher concentrated disinfectants are meant to specifically target tougher pathogens like SARS-CoV-2. However, this doesn't mean you should totally write off natural ingredients from your cleaning regimen. The CDC recommends a two-step process of cleaning first (cue the natural pantry staples), then using a sanitizer or a disinfectant to follow-up.
*Note: Remember, some natural ingredients don't mix well with commercial disinfectants. Always refer to the labels of your cleaning products before using them and make sure to check the amount of time needed to dry between uses.
Seven household ingredients that reduce bacteria
Going natural is a great way to reduce chemicals in your household and cut down on costs. Although they work as gentle cleaners, they're safer to use regularly and can be supplemented with stronger disinfectants later in the cleaning process (if safe to do).
Not all of these ingredients will kill viruses, but they can help reduce select bacteria populations around your home. Check out some of these key ingredients for daily household cleaning:
Castile soap: This is a great choice for general cleaning since it is both fragrance free and biodegradable. Sanitizers and detergents won't work effectively if your surfaces are full of dirt, so it's important to do a thorough cleaning with soap and warm water beforehand. Avoid pairing it with lemon juice or vinegar, since the acidity levels can cancel out the overall effectiveness of the soap.
Distilled vinegar: This is a great antibacterial ingredient and can help reduce foodborne pathogens like E-coli and tuberculosis from populating on countertops, refrigerators, and other kitchen surfaces.(5)(6)
Baking soda: When coupled with vinegar, this cleaning agent becomes a stain-fighting machine. It includes additional antibacterial properties and is best used as a natural deodorizer for your fridge or as gentle abrasive for ovens, grease stains, and microwaves.(7)
Tea tree oil: When researching natural all-purpose cleaners, you might notice this essential oil pop up in the ingredient list. It has a variety of uses (from skincare to antiseptics) and can help fight against bacteria and fungi. This stuff is powerful in high concentrations, so make sure to look for recipes that dilute it with water or vinegar.(8)(9)
Lemon juice: Want to reduce bacteria while adding an extra zesty scent to your kitchen? Try tossing in some lemon juice to your natural cleaner mix. Its acidity levels help combat pathogens like salmonella in the kitchen and are a great way to neutralize odors, without using synthetic fragrances.(10)
Hydrogen peroxide: Although this ingredient is technically a household chemical, some folks tend to incorporate it into their natural cleaning regimen as a gentler alternative. You can use a 3-percent solution to protect against E-coli and salmonella when disinfecting cutting boards or pots and pans—just make sure to let it sit for at least 10 minutes before wiping clean with water.
Rubbing alcohol: This ingredient is also up for debate when it comes to natural alternatives, but is widely used in many DIY household cleaners. The CDC recommends going with a solution that contains at least 70 percent isopropyl alcohol to reduce bacteria. You can spray or wipe directly on stainless steel appliances, sinks, or blinds without having to rinse with water afterwards. Allow it to sit for 30 seconds to evaporate and effectively disinfect. Avoid near flames and on porous surfaces like granite or quartz countertops.
The bottom line
The natural side of cleaning has many benefits that can reduce the risk of germs and toxic chemicals in your household. There's no harm in using plant-based alternatives for everyday cleaning, but it's important to incorporate EPA-approved sanitizers and disinfectants to tackle tougher bacteria and viruses, like Covid-19.
As a general rule, you can practice daily routine cleaning on high traffic areas (think doorknobs, stair rails, and countertops) with plant-based products for preventative measures. Follow-up with sanitizers and disinfectants for extra precautions or whenever someone in your household is sick.
References:
[1] M. L. Casey, B. Hawley, N. Edwards, J. M. Cox-Ganser, and K. J. Cummings, "Health problems and disinfectant product exposure among staff at a large multispecialty hospital," Am J Infect Control, vol. 45, no. 10, pp. 1133–1138, Oct. 2017, doi: 10.1016/j.ajic.2017.04.003. [Online]. Available: https://pubmed.ncbi.nlm.nih.gov/28549881
[2] K. J. Cummings and M. A. Virji, "The Long-Term Effects of Cleaning on the Lungs," Am J Resp Crit Care, vol. 197, no. 9, pp. 1099–1101, May 2018, doi: 10.1164/rccm.201801-0138ed. [Online]. Available: https://pubmed.ncbi.nlm.nih.gov/29474796
[3] C. Potera, "Scented products emit a bouquet of VOCs," Environ Health Persp, vol. 119, no. 1, pp. A16–A16, Jan. 2011, doi: 10.1289/ehp.119-a16. [Online]. Available: https://pubmed.ncbi.nlm.nih.gov/21196139
[4] W. A. Rutala, S. L. Barbee, N. C. Aguiar, M. D. Sobsey, and D. J. Weber, "Antimicrobial Activity of Home Disinfectants and Natural Products Against Potential Human Pathogens," Infect Control Hosp Epidemiology, vol. 21, no. 1, pp. 33–38, Jan. 2000, doi: 10.1086/501694. [Online]. Available: https://www.cambridge.org/core/article/antimicrobial-activity-of-home-disinfectants-and-natural-products-against-potential-human-pathogens/6D70C6F5E3928DDB3365FB9AF7CCD8E9
[5] E. ENTANI, M. ASAI, S. TSUJIHATA, Y. TSUKAMOTO, and M. OHTA, "Antibacterial Action of Vinegar against Food-Borne Pathogenic Bacteria Including Escherichia coliO157:H7," J Food Protect, vol. 61, no. 8, pp. 953–959, Aug. 1998, doi: 10.4315/0362-028x-61.8.953. [Online]. Available: https://doi.org/10.4315/0362-028X-61.8.953
[6] C. Cortesia et al., "Acetic Acid, the Active Component of Vinegar, Is an Effective Tuberculocidal Disinfectant," Mbio, vol. 5, no. 2, pp. e00013-14, May 2014, doi: 10.1128/mbio.00013-14. [Online]. Available: http://mbio.asm.org/content/5/2/e00013-14.abstract
[7] D. Drake, "Antibacterial activity of baking soda.," Compendium of continuing education in dentistry.(Jamesburg, NJ: 1995). Supplement, vol. 18, no. 21, pp. S17-21, Jan. 1997.
[8] W.-R. Li et al., "The dynamics and mechanism of the antimicrobial activity of tea tree oil against bacteria and fungi," Appl Microbiol Biot, vol. 100, no. 20, pp. 8865–8875, Oct. 2016, doi: 10.1007/s00253-016-7692-4. [Online]. Available: https://doi.org/10.1007/s00253-016-7692-4
[9] S. S. Budhiraja, M. E. Cullum, S. S. Sioutis, L. Evangelista, and S. T. Habanova, "Biological activity of Melaleuca alternifolia (tea tree) oil component, terpinen-4-ol, in human myelocytic cell line HL-60," Journal of manipulative and physiological therapeutics, vol. 22, no. 7, pp. 447–453, Jan. 1999.
[10] E. I. Oikeh, E. S. Omoregie, F. E. Oviasogie, and K. Oriakhi, "Phytochemical, antimicrobial, and antioxidant activities of different citrus juice concentrates," Food science & nutrition, vol. 4, no. 1, pp. 103–109, Jan. 2016.
Jessica Resendez
With over five years of writing experience, Jessica Resendez has knowledge about topics from food and health to culture and community.
More About The Author