Keeping Your Kids on Track While on Summer Vacation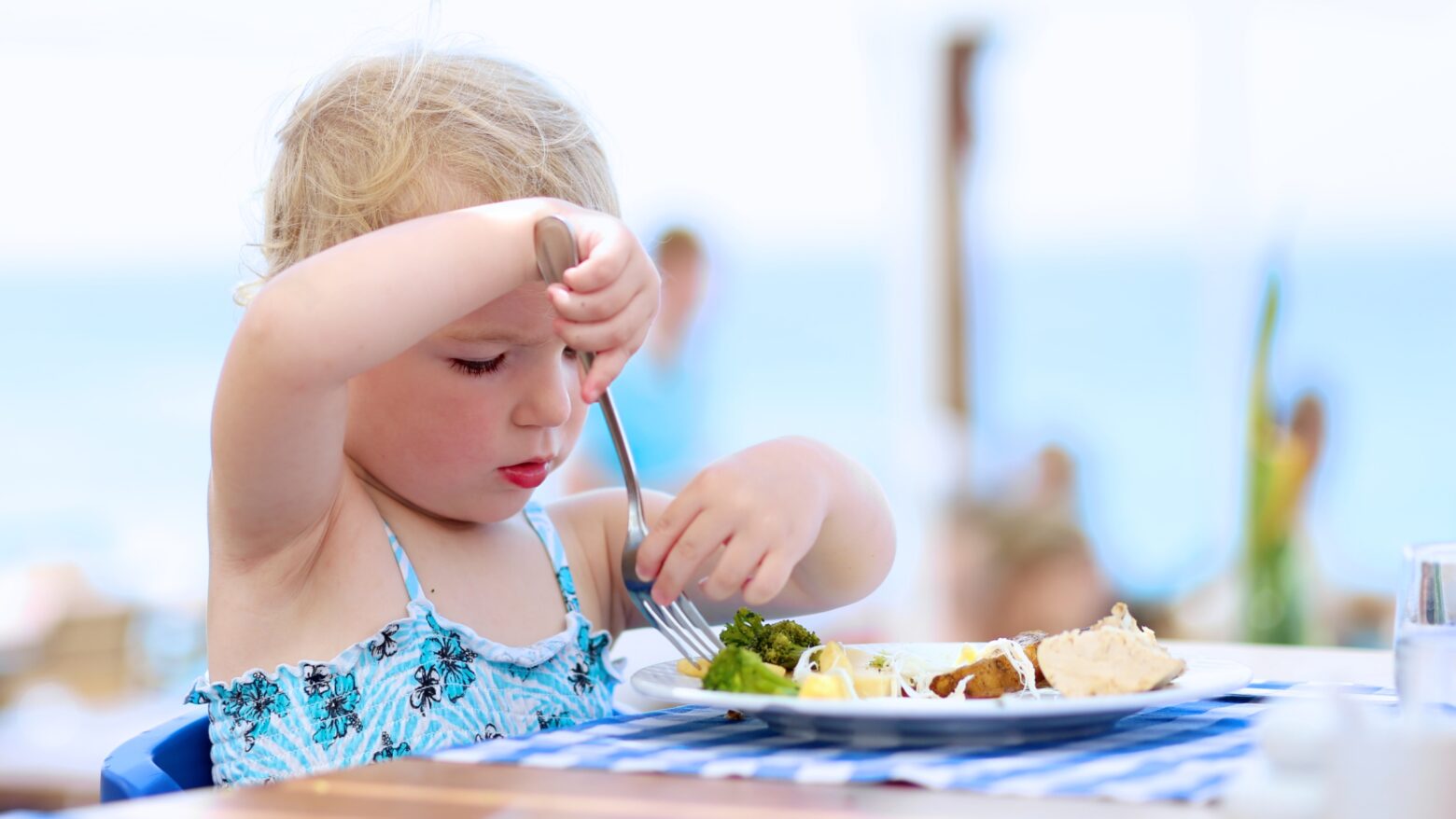 Chicken nuggets, pizza, spaghetti.
That's just a few of the items seen all too commonly on the kid's section of menus at eateries ranging from upscale to the local hole in the wall. And while many parents are becoming more and more aware of how important it is to be conscientious of what their children are eating at home and at school, all too often even the best eating strategies can go out the window when it comes to dining on vacation.
If the parents' mindset is such that eating on vacation necessitates making less than ideal food choices, there's little hope that 7-year-old Michael or 3-year-old Katie will, of their own volition, ask the waiter for a crisp salad with wild salmon rather than the default mac and cheese.
In actuality, eating well on vacation really begins with eating well at home.
Below are my tips for getting your whole family on a healthier eating system for summer vacation. By keeping consistent from the get-go, you'll be able to make a more seamless transition into eating clean while lounging at the beach or camping in the wilderness.
Don't be too strict with diet
Before you even leave for vacation, make sure your family is on the right track at home, without being too strict on the guidelines. Yes, cut out white sugar and get rid of anything with gluten, but don't push unhealthy tropes such as eating too few calories and too little fat. Even though you might not be parlaying the current diet trends you read about, if your little ones see you "dieting" they're going to start picking up on cues.
Instead, up the fat, up the flavor, and eschew sugar for the whole family without even mentioning that you're doing it. Just watch them clean their plates of duck-fat roasted cauliflower far more quickly than they've ever eaten their steamed broccoli.
Pack well for the plane
Airlines may have limited meal options for your family's dietary needs. Plus, studies show that fasting on the plane makes more sense than eating while you fly, but for little ones this may be an issue depending on how old they are.
For you, packing snacks for the plane can be as simple as bringing along a bottle of MCT oil you can stir into a cup of tea or coffee. For the kids, carry balanced snacks such as an Epic Bar (choose the varieties without dried fruit), coconut butter packets, or sprouted nuts with a tart Granny Smith apple. Keep the choices easy and sugar-free; no need to bring the whole fridge with you!
Research dining options in advance
Wherever you're traveling, do a little homework in advance to see what your dining options will be. Often, venturing outside the confines of your hotel can land you in a place where you can experience local, fresh cuisine. This allows you to not only have healthier options but support the local community you're visiting.
The same goes for splurges. Mindfully choose places ahead of time that will be a treat for the whole family. For example, if you're a gluten-free family, planning in advance to visit a mom-and-pop sorbet shop one afternoon in Nantucket after a picnic lunch makes far more sense than settling for pretzels and cotton candy because everyone was starving and there was nothing else around. The consequence of eating a mega dose of sugar and gluten isn't worth it and won't be enjoyed as much as a well-thought-out special occasion.
Keep everyone engaged
Kids want to be heard, so give them a choice, but make it a choice between two options. Rather than having a kid-centric menu with those aforementioned low-bar choices, simply scan your own menu and find what the best choices might be. Look for simply prepared proteins and veggies, then ask the little ones which they'd rather have. For instance, a grilled chicken salad or a lettuce-wrapped beef burger with a side of veggies?
If you can keep your mindset as healthy and balanced as possible from the start, you won't be setting yourself up to fall for the "easy," unhealthy staples while on vacation. Your kids will follow suit, regardless.
The choice is yours!
References
1) Mouawad, Jad. "Beyond Mile-High Grub: Can Airline Food Be Tasty?" The New York Times. NYTimes.com, 10 Mar. 2012. Web. 01 Sept. 2015
2) Alirezaei M, Kemball CC, Flynn CT, Wood MR, Whitton JL, Kiosses WB. "Short-term Fasting Induces Profound Neuronal Autophagy." Autophagy. PubMed.NCBI.NLM.NIH.gov, Aug. 2010. Web.
3) Wu, Suzanne. "Fasting Triggers Stem Cell Regeneration of Damaged, Old Immune System." USC News. University of Southern California, 5 June 2014. Web.
4) Virgin, JJ. "5 Reasons Intermittent Fasting Could Become a Bad Idea." The Huffington Post. HuffPost.com, 9 July 2014. Web. 01 Sept. 2015
Nell Stephenson, B.S.
Nell Stephenson has been an advocate for The Paleo Diet since 2011, and is the co-author of The Paleo Diet Cookbook.
More About The Author