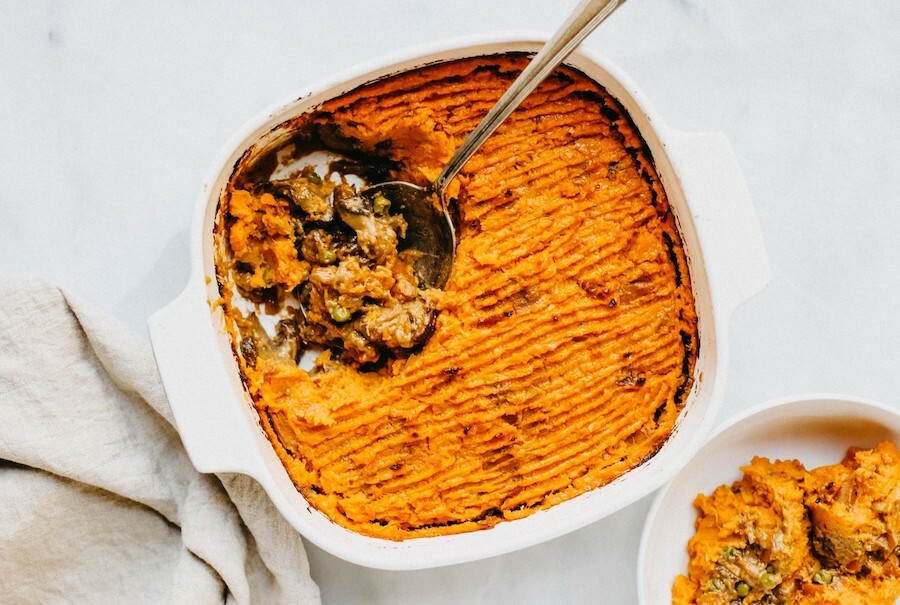 Sweet Potato Shepherd's Pie
Bet you can't find a better comfort food than shepherd's pie! In this vegetarian version, we nixed the meat in favor of more veggies, and smothered the top in a creamy sweet potato mash.
Traditional shepherd's pie is often made with lots of butter, salt, cheese, peas, and corn, then is topped with mashed white potatoes. To make this recipe Paleo, we swapped the legumes and grains for real veggies, like mushrooms, asparagus, carrots, and onions. The topping is a creamy sweet potato mash that most would argue is much tastier than the original!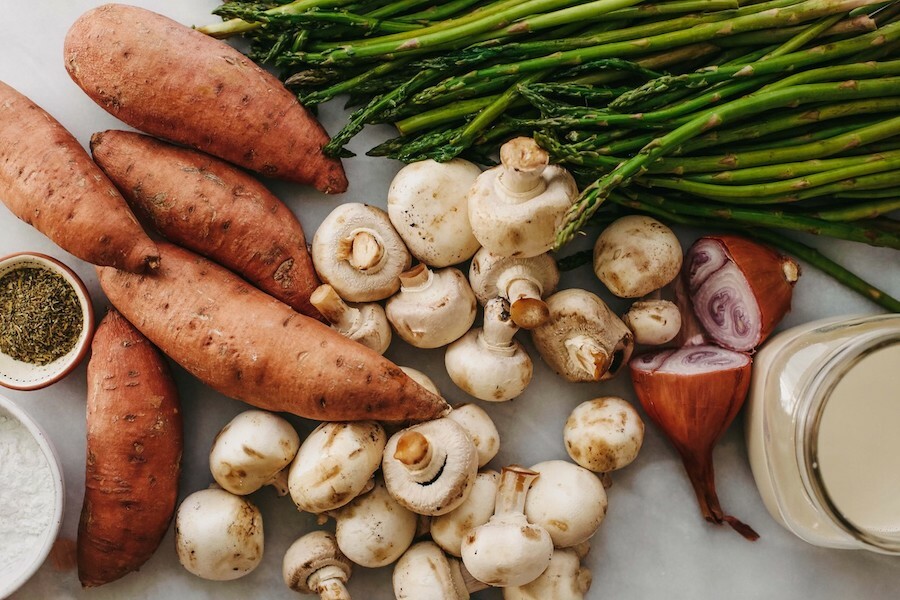 Plus, this recipe is vegan-friendly, so you can make a big batch to share with your Paleo, gluten-free, vegetarian, and vegan friends.
To make it, start by softening the sweet potatoes. Slice them into small cubes, then boil until softened. Drain the water and use a potato masher to mix it with a bit of cashew milk, olive oil, and just a pinch of salt to keep things TRUEPALEO™ approved. You can also use almond milk or any other dairy-free milk you have on hand instead.
While the sweet potatoes boil, sauté your veggies in a bit of olive oil until soft. While they're still over the heat, make a quick slurry with arrowroot flour, spices, and cashew milk. You might need a bit more arrowroot flour to get the slurry nice and thick.
Next, pour the slurry over the veggies and mix well to thicken into a gravy-like texture. As soon as the veggies are evenly coated, remove from the heat and pour into a baking dish. Top evenly with the mashed sweet potatoes, then set under the broiler until golden and bubbly.
Serve your vegetarian sweet potato shepherd's pie right away, and enjoy! You can store leftovers in an airtight container in the fridge for 3-4 days.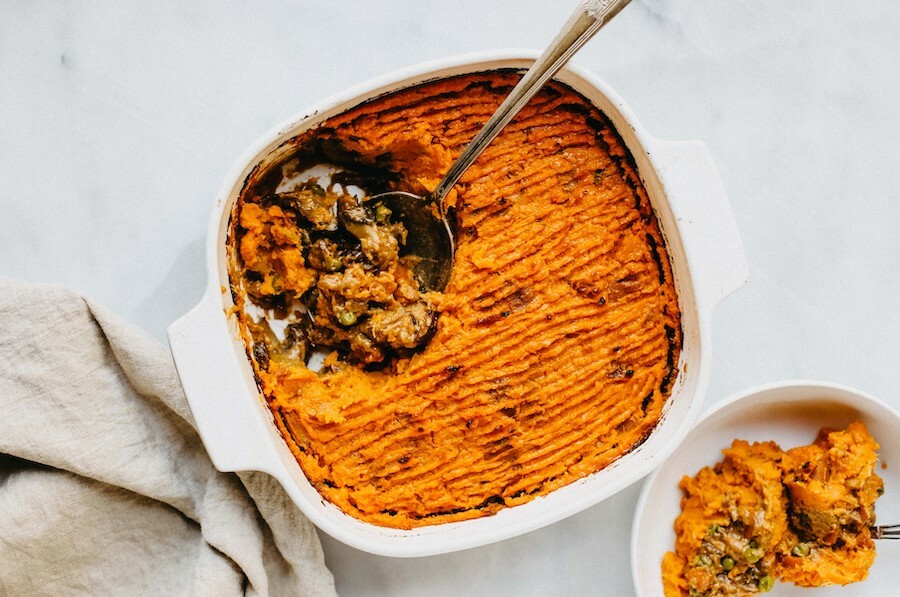 Love our recipes? Make going Paleo even easier and download our 7-Day and 28-Day digital meal plans!
Details
Prep Time:

15 minutes

Cook Time:

35 minutes

Total Time:

50 minutes
Ingredients
1 1/2 lb sweet potatoes, peeled and diced into 1" cubes

1 1/2 cups cashew milk, divided

2 tbsp extra virgin olive oil, divided

1/2 tsp salt

1/2 sweet onion, diced

4 cloves garlic, minced

1/2 lb mushrooms, sliced

1/2 cups asparagus, chopped

1 carrot, diced

1 tbsp arrowroot flour

1 tsp smoked paprika

1/2 tsp onion powder

1/2 tsp oregano
Directions
Put the sweet potato cubes in a saucepan and add about 1 inch of water. Set over medium heat and cook until soft, about 15 minutes. Remove from heat and drain the water. Add ½ cup of the cashew milk, 1 tablespoon of the olive oil, and salt. Mash until smooth.

Heat a tablespoon of olive oil in a large saucepan. Add the onions, garlic, mushrooms, asparagus, and carrots. Sauté for about 5 minutes, or until just softened.

Meanwhile, in a small bowl, combine the arrowroot flour with the spices and the remaining 1 cup of cashew milk. Whisk into a slurry, then pour the slurry over the vegetables and stir continuously, until the mixture thickens into a gravy. Remove from heat immediately.

Pour the vegetable mixture into an 8" baking dish, then top with the mashed sweet potatoes and spread evenly with a fork. Heat the oven to high broil. Broil until golden on top, about 15 minutes. Serve and enjoy!