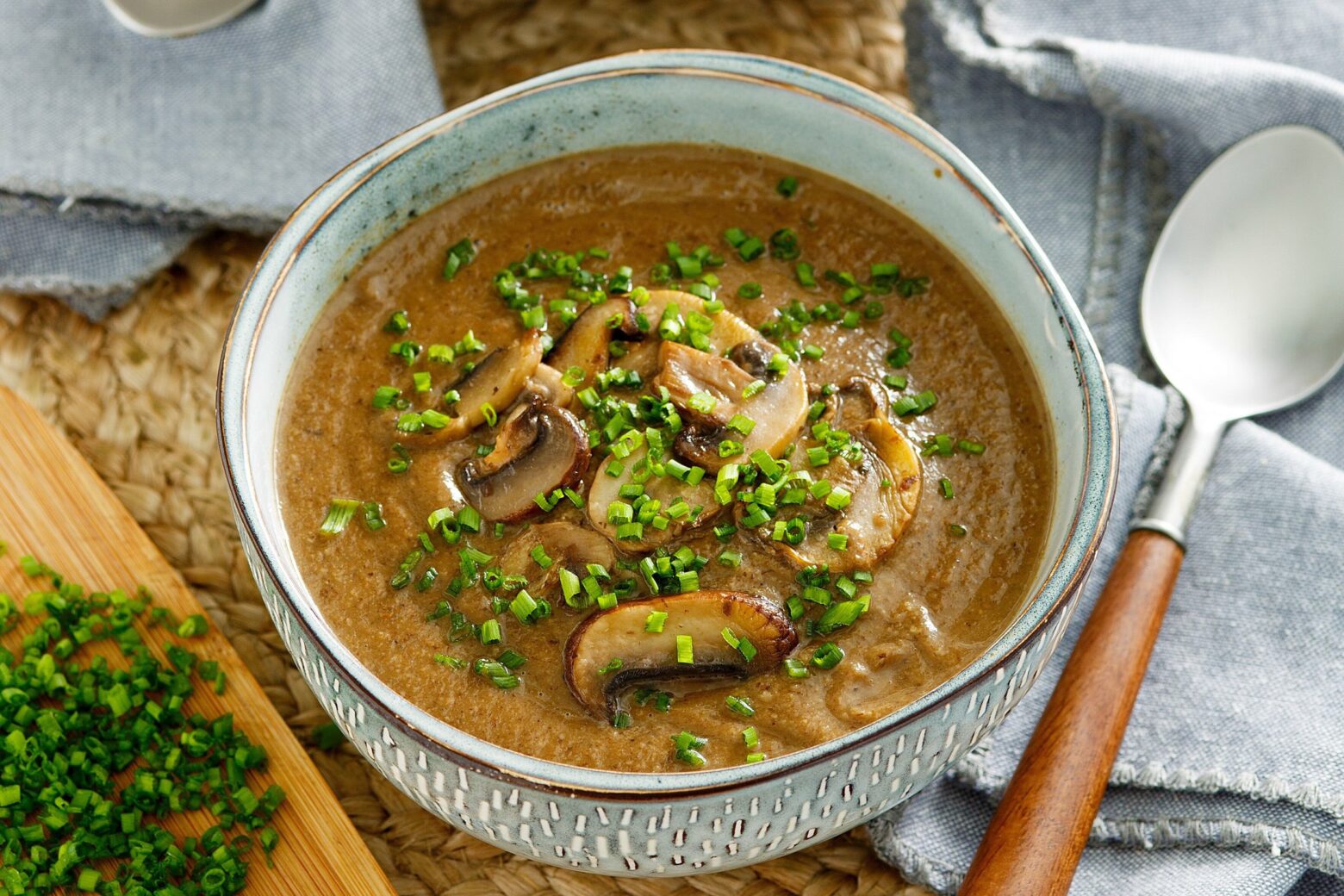 Easy, One-Pot Cream of Mushroom Soup
If you're a mushroom lover, this Paleo Diet® cream of mushroom soup is about to become a new favorite. It distills all the warmth and heartiness you love about mushrooms into a velvety smooth soup!
Variety is the spice of life – and it's what makes this soup so addictively good. Start with a base of mixed mushrooms like cremini, button, or portobello. If you have gourmet mushrooms like oysters, enokis or shiitakes, feel free to add those in to make this recipe even better.
To keep this recipe truly Paleo, use beef broth without any added salt. Homemade bone broth is best, but you can use sodium-free beef stock from the store in a pinch. You'll also want to use a can of full-fat coconut milk to achieve a thick, creamy soup. No one will guess this cream of mushroom soup is actually dairy-free!
To make this easy one-pot recipe, start by sautéing the mushrooms in coconut oil until soft — about 15 minutes. Reserve a few of the mushrooms for garnish. Next, add shallots and leeks to add texture and flavor without the need for extra salt. When the leeks are cooked, add fresh garlic and pour in the coconut milk a little at a time, scraping up the browned bits at the bottom of the pan. Reduce the soup down, then add the beef broth and bring to a simmer. Season with fresh thyme or oregano and remove from the heat.
We recommend using an immersion blender to make this soup effortlessly smooth. However, if you're using an enamel pot (like a Dutch oven), you might want to use a traditional blender so you don't scratch the bottom of the pot. In this case, cool the soup slightly, then use a ladle to add it to a blender or food processor in batches. Process until smooth and creamy, and then return to the pot and heat until steaming.
Top your cream of mushroom soup with reserved mushrooms, fresh chives, and a drizzle of good olive oil. Serve hot.
Tip: Get creative! You can use this cream of mushroom soup as a topper on pork chops, or in your favorite Paleo casserole dish. It's much tastier (and healthier!) than the canned stuff.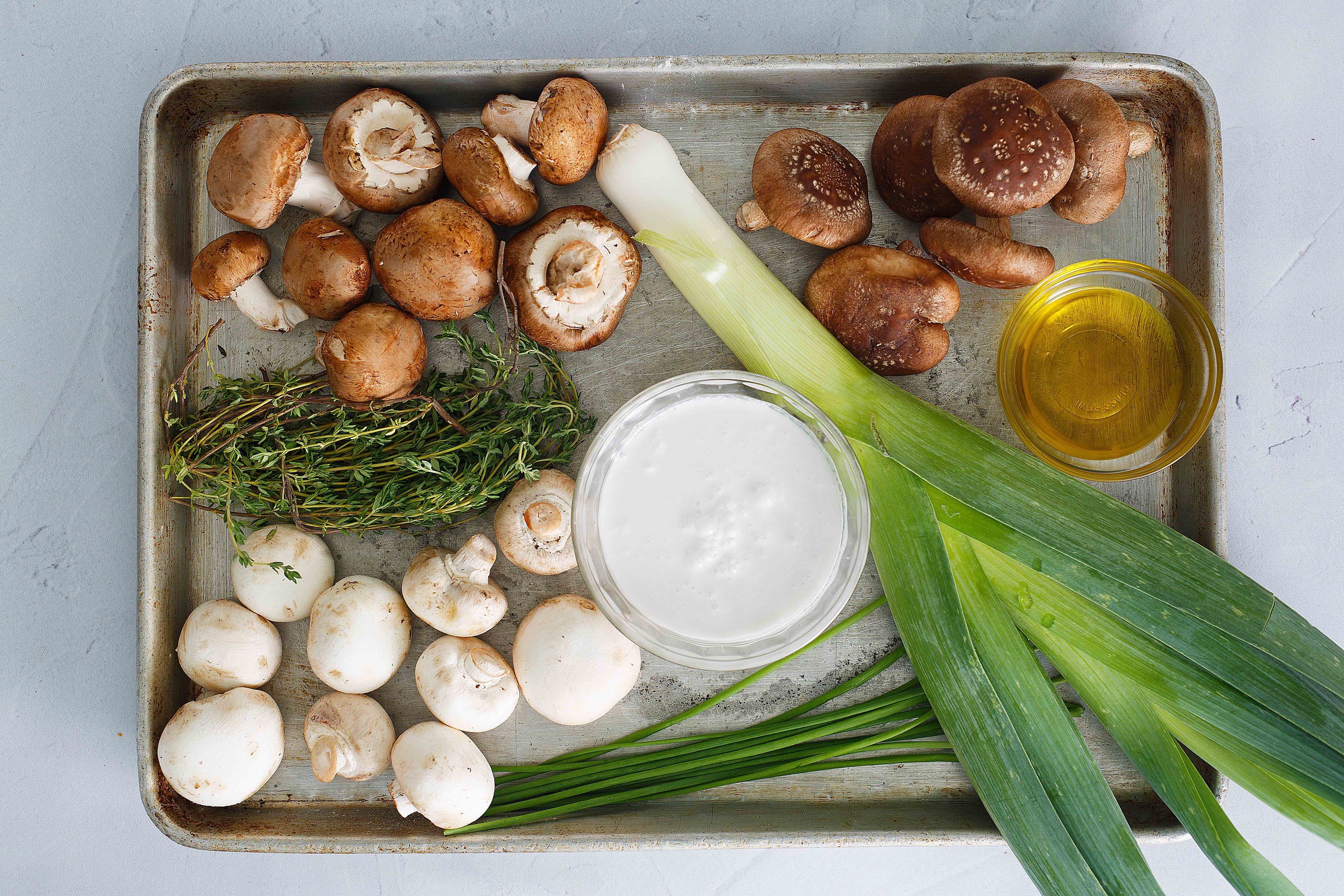 For hundreds of pure Paleo recipes be sure to check out  The Real Paleo Diet Cookbook  and  The Real Paleo Diet Fast and Easy.
Details
Recipe by:
Serves:
Meal:

Anytime
Prep Time:

10 minutes

Cook Time:

35 minutes

Total Time:

45 minutes
Ingredients
3 tbsp coconut oil

3 pints assorted mushrooms, roughly chopped

2 shallots, thinly sliced

2 leeks, thinly sliced, green tops removed

4 cloves garlic, finely chopped

1 can full-fat coconut milk

6 cups salt-free beef broth

1 tbsp fresh thyme or oregano

Fresh chives, finely chopped (for garnish)

Olive oil (for drizzling)
Directions
Heat the coconut oil in a large Dutch oven or stock pot. Add the mushrooms and sauté 12-15 minutes. Set ¼ cup of the sautéed mushrooms aside for garnish.

Add shallots and leeks. Cook an additional 8-10 minutes or until leeks have softened.

Add the garlic and cook an additional 1-2 minutes.

Pour in half of the coconut milk and stir, scraping up any browned bits on the bottom of the pot. Add the remaining coconut milk and simmer until reduced in volume by half, about 5 more minutes.

Slowly add the beef broth and bring to a simmer. Season with fresh thyme or oregano. Remove from heat and use an immersion blender to blend the soup until smooth and creamy.

Serve the cream of mushroom soup hot, garnished with reserved mushrooms, fresh chives, and a drizzle of olive oil.