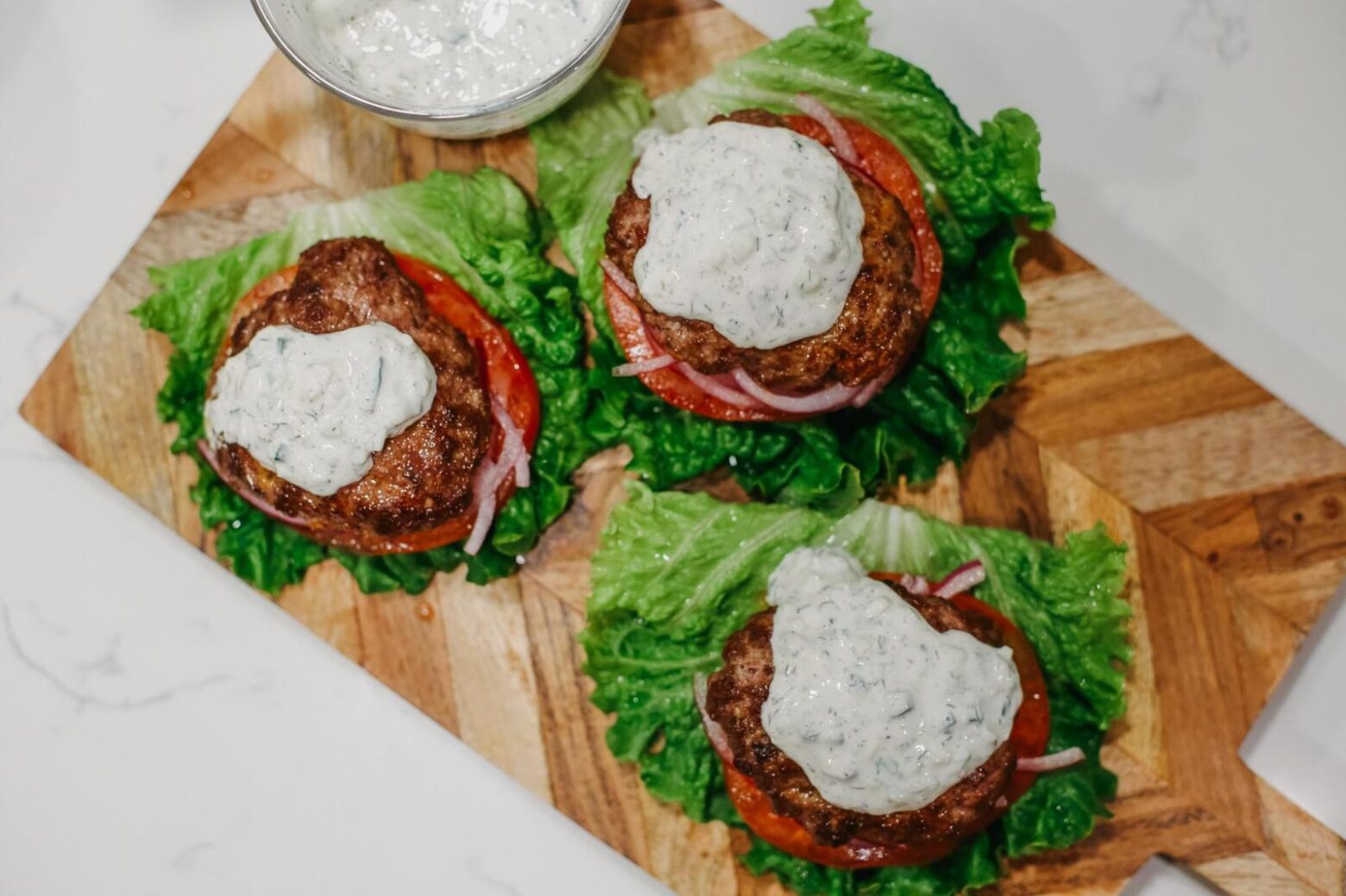 Lamb Tzatziki Lettuce Burger

Up your burger game and be the champion of your next barbecue with these Greek ​​lamb burgers! These light and juicy burgers are packed with chopped cucumbers and dill, and topped with a creamy, homemade tzatziki sauce that makes for a healthy lunch or dinner.
Not only is lamb delicious, but it is a great source of protein, iron, zinc, vitamin B12, and selenium. Lamb is usually grass-fed, and it has a lot of heart-healthy omega-3 fatty acids. These fats are "good" fats and they also have anti-inflammatory properties.
Our six-ingredient, dairy-free tzatziki sauce recipe is not only great with grilled meats and fish but makes a healthy, creamy dip for all kinds of vegetables. To save time, make sure to prepare the pickled red onions the day before.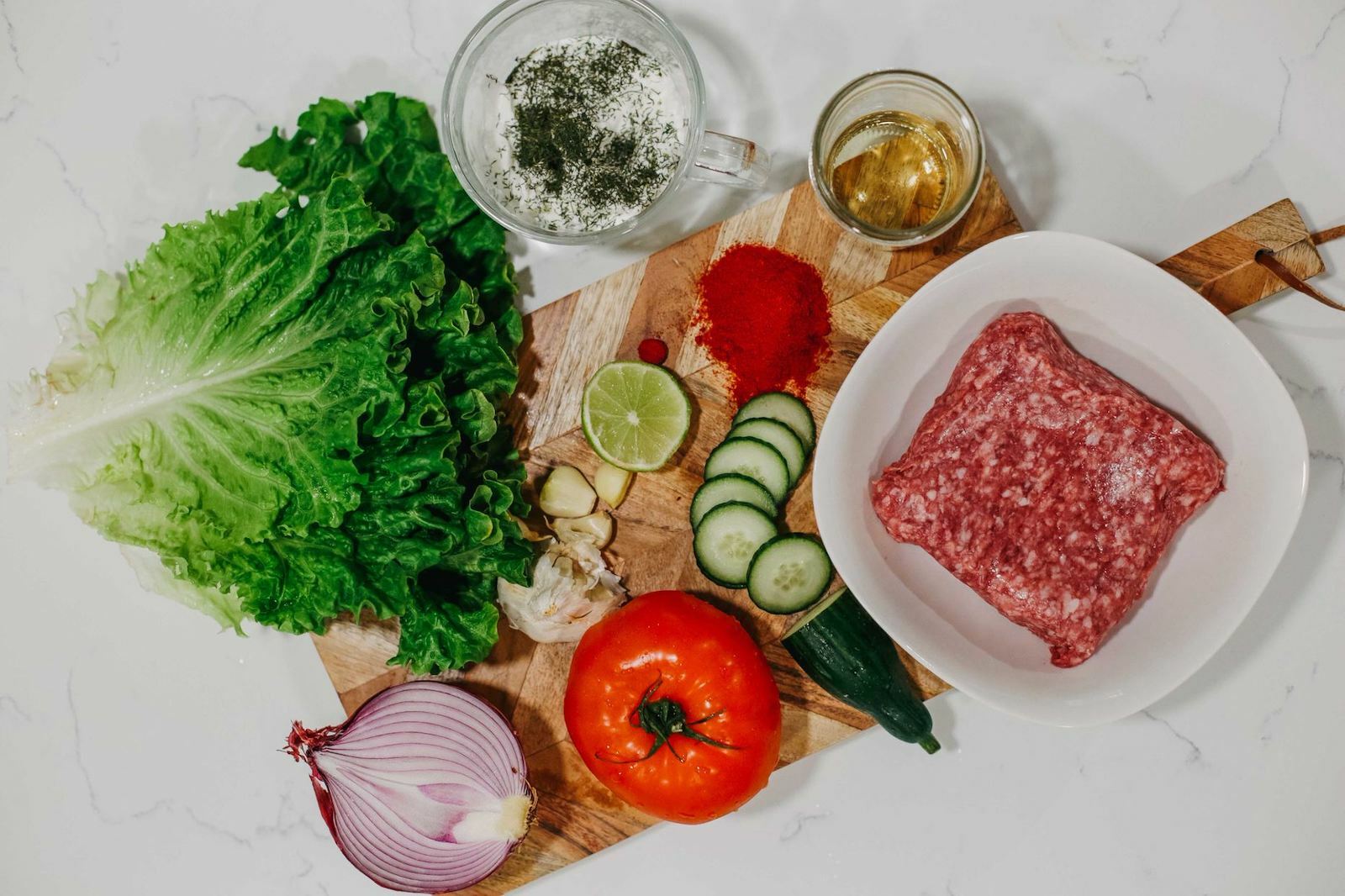 For the tzatziki sauce, start by deseeding your cucumber. Our trick to deseeding veggies is cutting them lengthwise, and then scooping out the seeds. Doing this will help remove the excess water in order to keep your tzatziki thick and creamy. Now, finely dice the cucumber and add all your ingredients into a bowl. Be sure to mix well to combine!
Spice up your Greek burger meat with just a few ingredients that you probably already have in your Paleo pantry. Simply use your hands to mix the ingredients (or a wooden spoon if you prefer). Form into patties with black pepper and paprika, then grill! Serve the warm burgers on lettuce leaves with pickled onions, tomato slices, and tzatziki sauce on top. Enjoy and dig in!
Tips:
If you have leftover tzatziki sauce, store it in a Ziploc plastic bag with all the air squeezed out to prevent discoloration. Store in the fridge for one day.
Make your tzatziki even creamier by slicing up an avocado and blending it into the sauce.
Autoimmune Protocol (AIP) omissions and substitutions are listed in the recipe ingredients.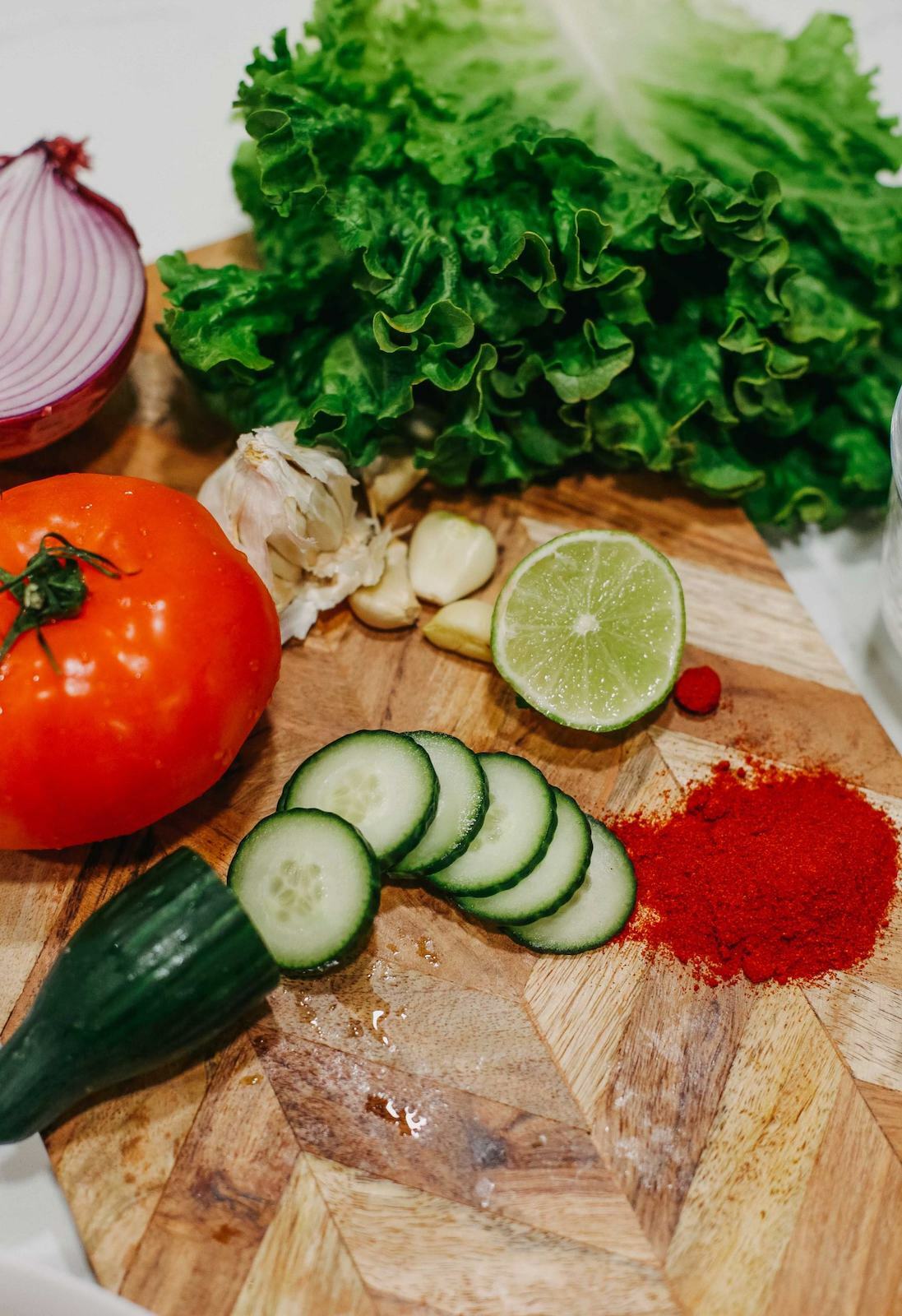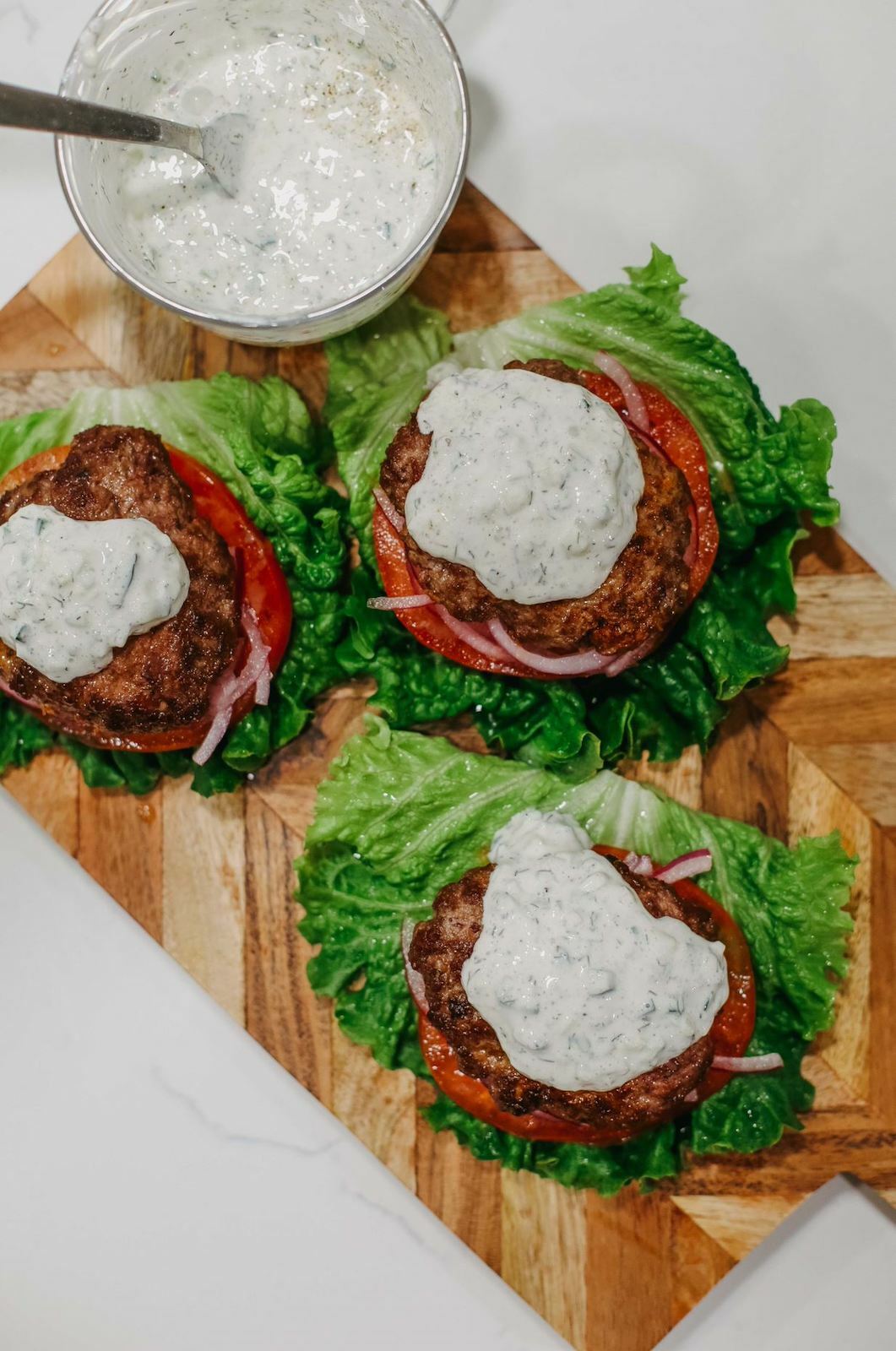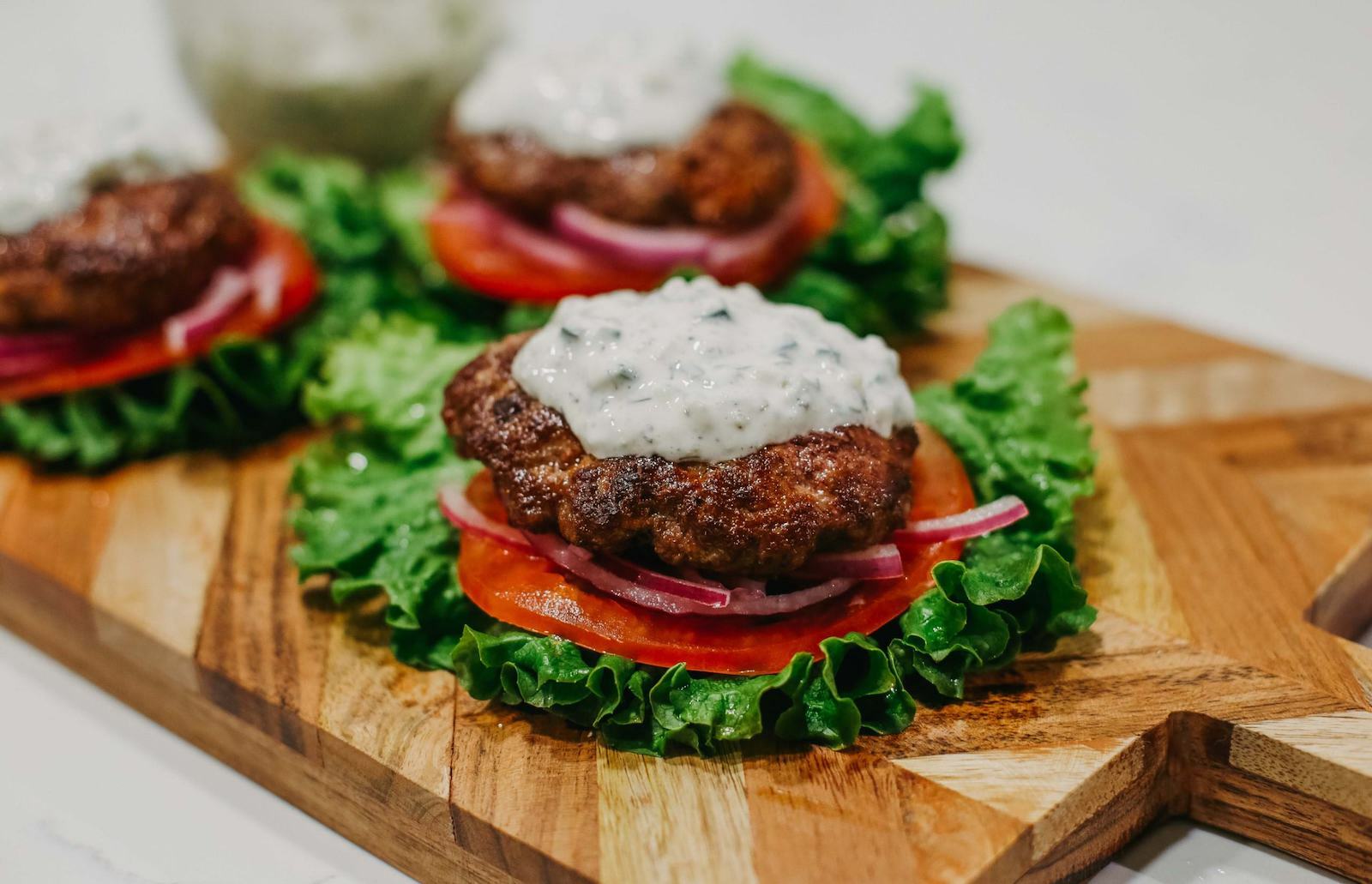 Love our recipes? Make going Paleo even easier and download our 7-Day and 28-Day digital meal plans!
Details
Prep Time:

20 minutes

Cook Time:

10 minutes

Total Time:

30 minutes
Ingredients
1/2 red onion, sliced

1/2 cups water

1/2 cups white wine vinegar

1 lime, juiced

7/24 cups full fat coconut milk

1/2 cups Paleo mayonnaise

1 cucumber, deseeded and minced

1/2 tbsp lemon juice

1 1/4 tsp ground black pepper (AIP - omit)

3 tsp dill, chopped

1 lb ground lamb

1/4 tsp paprika (AIP - omit)

1 tbsp olive oil

1 head of lettuce

1 tomato, sliced (AIP - substitute with zucchini)
Directions
The day before, make the pickled onions by placing sliced onions into a bowl or mason jar with water, vinegar, and lime juice. Cover and refrigerate overnight.

In a bowl, prepare tzatziki sauce by mixing coconut milk, Paleo mayonnaise, chopped cucumber, minced garlic, lemon juice, pepper, and dill.

Prepare ground lamb by forming four patties, seasoned with pepper and paprika. Heat olive oil in a frying pan on medium-high heat. Cook patties in a pan for five minutes on both sides until thoroughly cooked.

Serve burgers immediately with lettuce leaves, pickled onions, tomato slice, and tzatziki sauce on top. Enjoy!