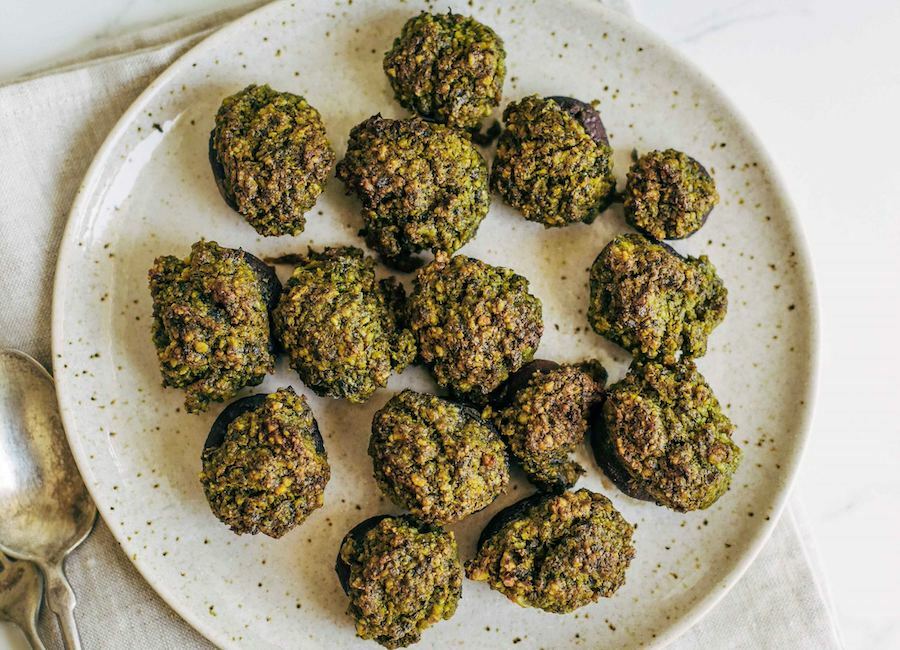 Kale Pesto Stuffed Mushrooms
A great dynamic duo: creamy rich pesto stuffed into a cremini mushroom combine for a nutty flavor burst! This vegan stuffed mushroom recipe is the perfect hearty dish for the whole family.
Loaded with essential nutrients and antioxidants, this crowd pleaser side dish is also a power-packed superfood. The cremini mushrooms boost your immune system and help control blood pressure while kale is rich in Vitamins A and B as well as omega-3 fatty acid.
Many stuffed mushroom recipes are sprinkled with cheese on top. However, since this recipe is both vegan and Paleo, we added nutritional yeast instead. This will mimic a cheesy, nutty taste without having to consume heavy dairy products that can often upset your stomach.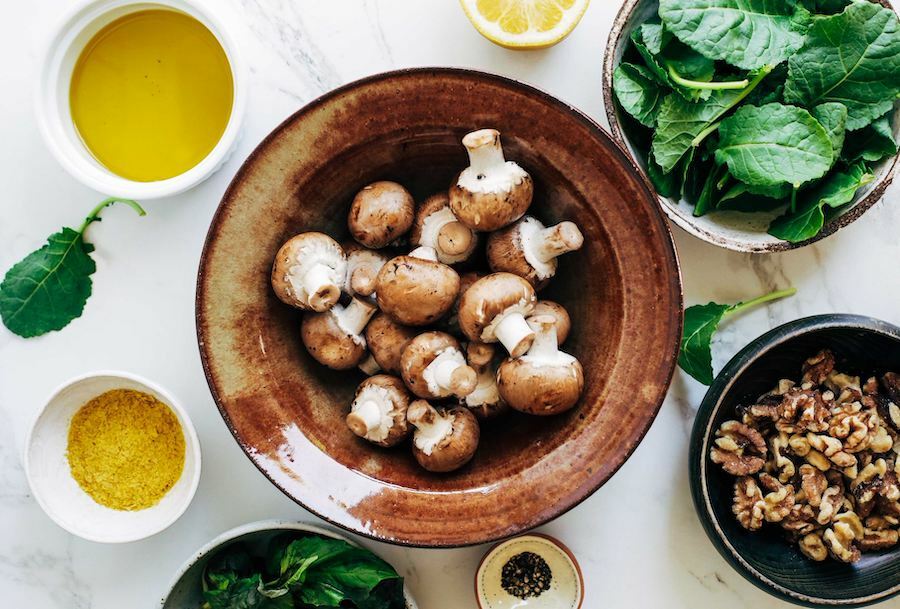 Start by removing the mushroom caps from their stems and lining them up on a prepped baking sheet. Set the baking sheet aside as you make your filling. Throw the rest of your dry ingredients into a food processor along with the olive oil and lemon juice until blended to a smooth consistency.
Next, spoon the kale pesto filling mixture into each mushroom cap. Make sure to not apply too much pressure when adding the filling to avoid breaking the mushroom. Bake in the oven at 350°F for 20 minutes. Serve hot and dig in!
Tip: If you want to make this meal more filling, swap out the smaller cremini mushrooms for portabella mushrooms instead!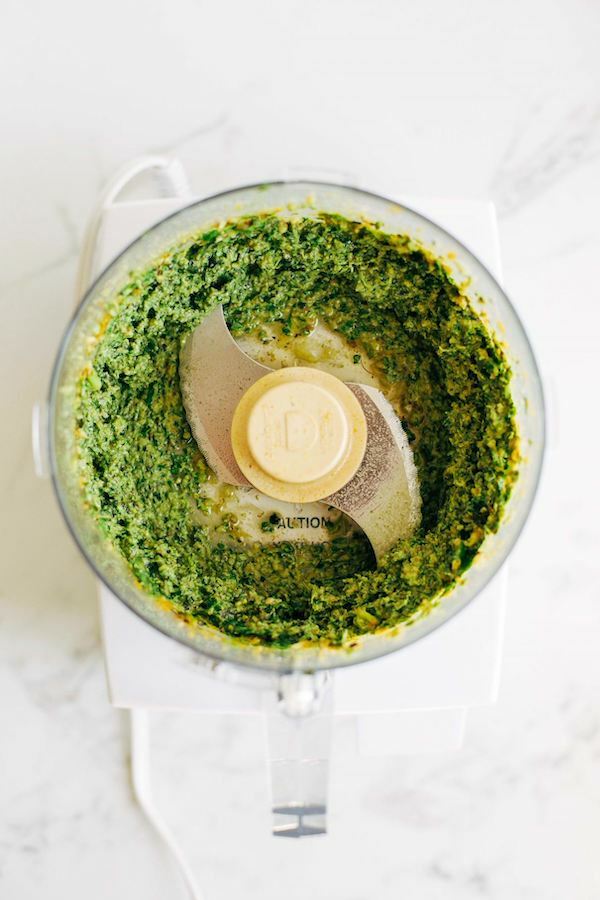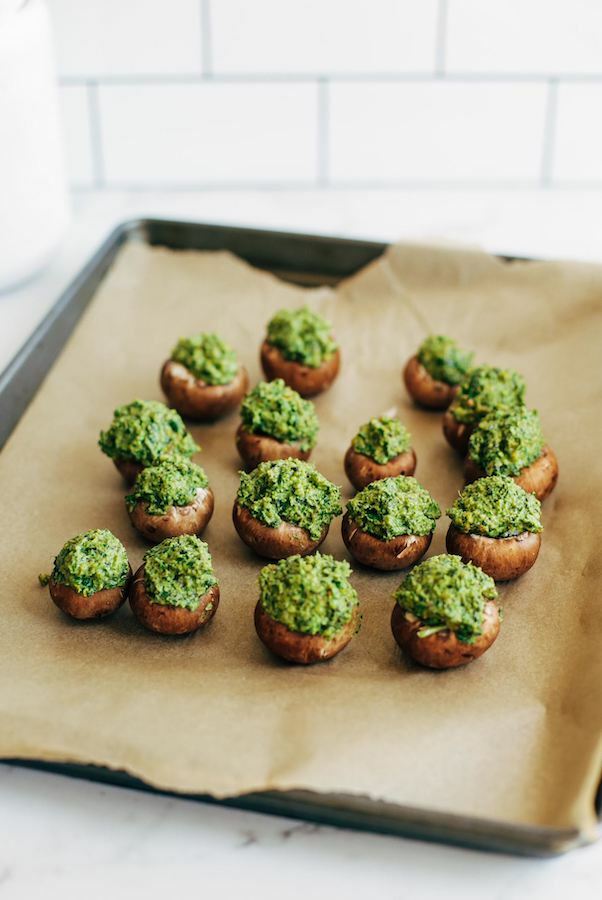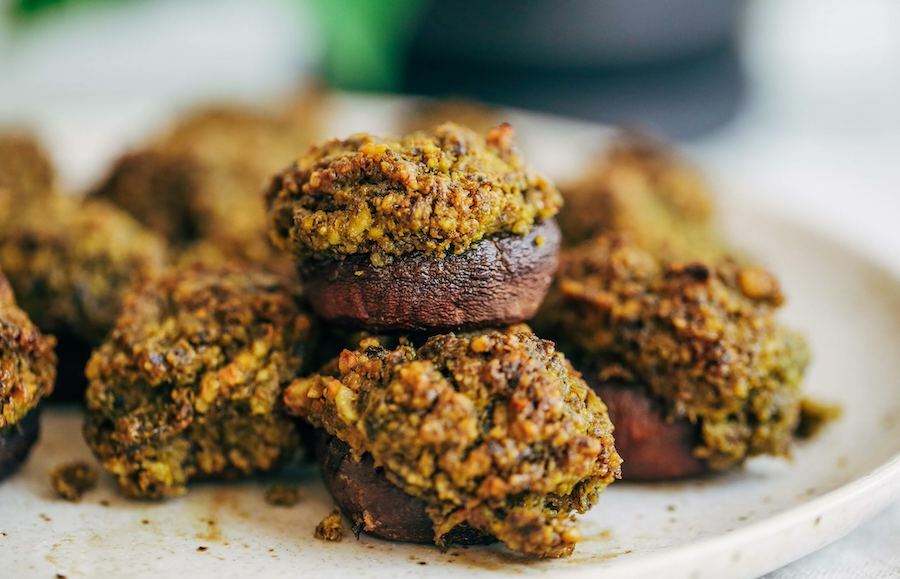 Love our recipes? Make going Paleo even easier and download our 7-Dayand 28-Day digital meal plans!
Details
Prep Time:

10 minutes

Cook Time:

20 minutes

Total Time:

30 minutes
Ingredients
16 cremini mushrooms, stems removed

1 cups fresh basil

1 cups baby kale

2/3 cups raw walnuts

2 tbsp nutritional yeast

1/3 cups olive oil

1/2 lemon, juiced

1/4 tsp black pepper
Directions
Place mushroom caps on a baking tray lined with parchment paper. Preheat the oven to 350°F.

Combine all remaining ingredients in a food processor until smooth.

Scoop the kale pesto evenly into each mushroom cap, then bake for 20 minutes. Serve hot and enjoy!