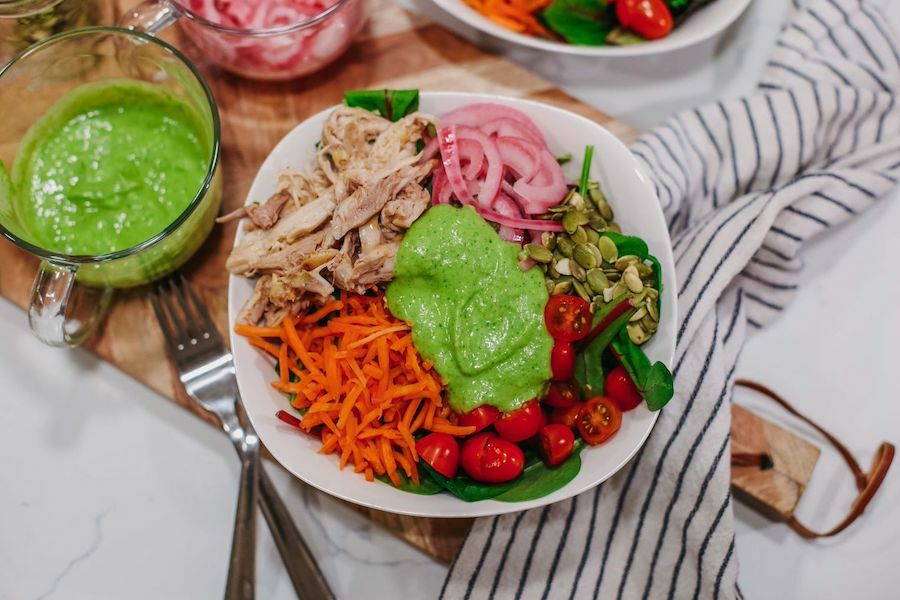 Fiesta Chicken Salad Bowl
This zesty salad is like a fiesta on a plate, filled with fresh, colorful veggies and chicken that's packed with flavor. If you're looking for the perfect meal to prepare ahead of time, this recipe is a great choice—it comes together quickly and easily.
Missing that typical taco salad rice base? Cook up a batch of riced cauliflower! This nutritious substitute is low in calories and carbs. It's high in vitamin A and C, which are antioxidants that are a huge help in damaged cell repair.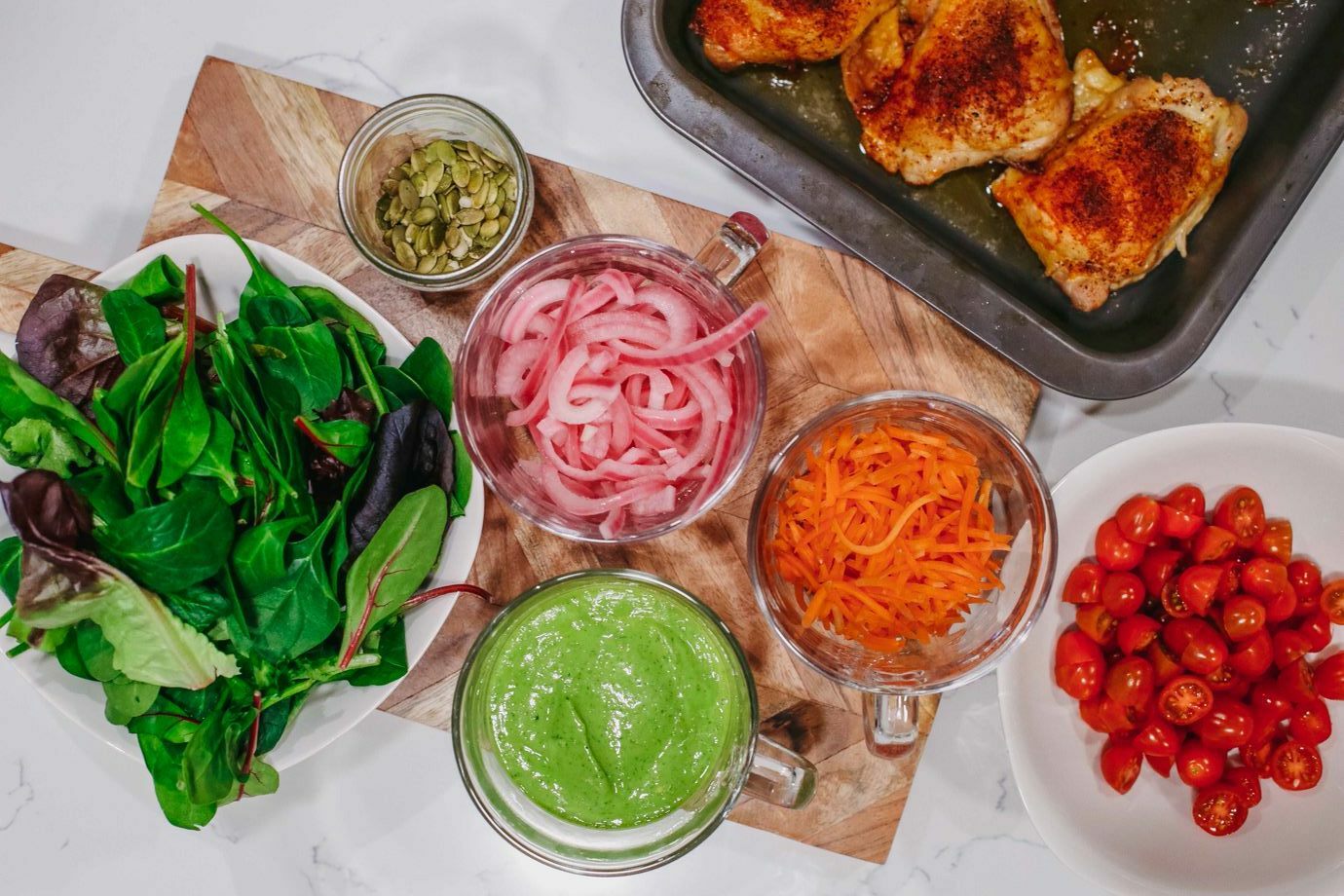 You can buy it at the store or make your own by chopping a head of cauliflower into florets, then pulsing it in a food processor until it resembles rice. To heat it up, simply sauté with some olive oil in a large skillet for 5-6 minutes, stirring occasionally.
Plan ahead by pickling the red onions in advance (at least a few days) to save yourself time. While the chicken is baking, blend the creamy avocado dressing, chop the veggies, and start arranging your fiesta bowl by dividing the mixed greens evenly between the bowls.
To cook the chicken faster, cut it into bite-size pieces. Season with the spices and cook over a large skillet. Be sure to brown all over and stir until it's cooked through—about 10 minutes. If you are not a fan of chicken thighs, you can use chicken breasts instead. Finally, add the cooked chicken, veggies, red onions, and pumpkin seeds. Finish with avocado dressing and serve immediately.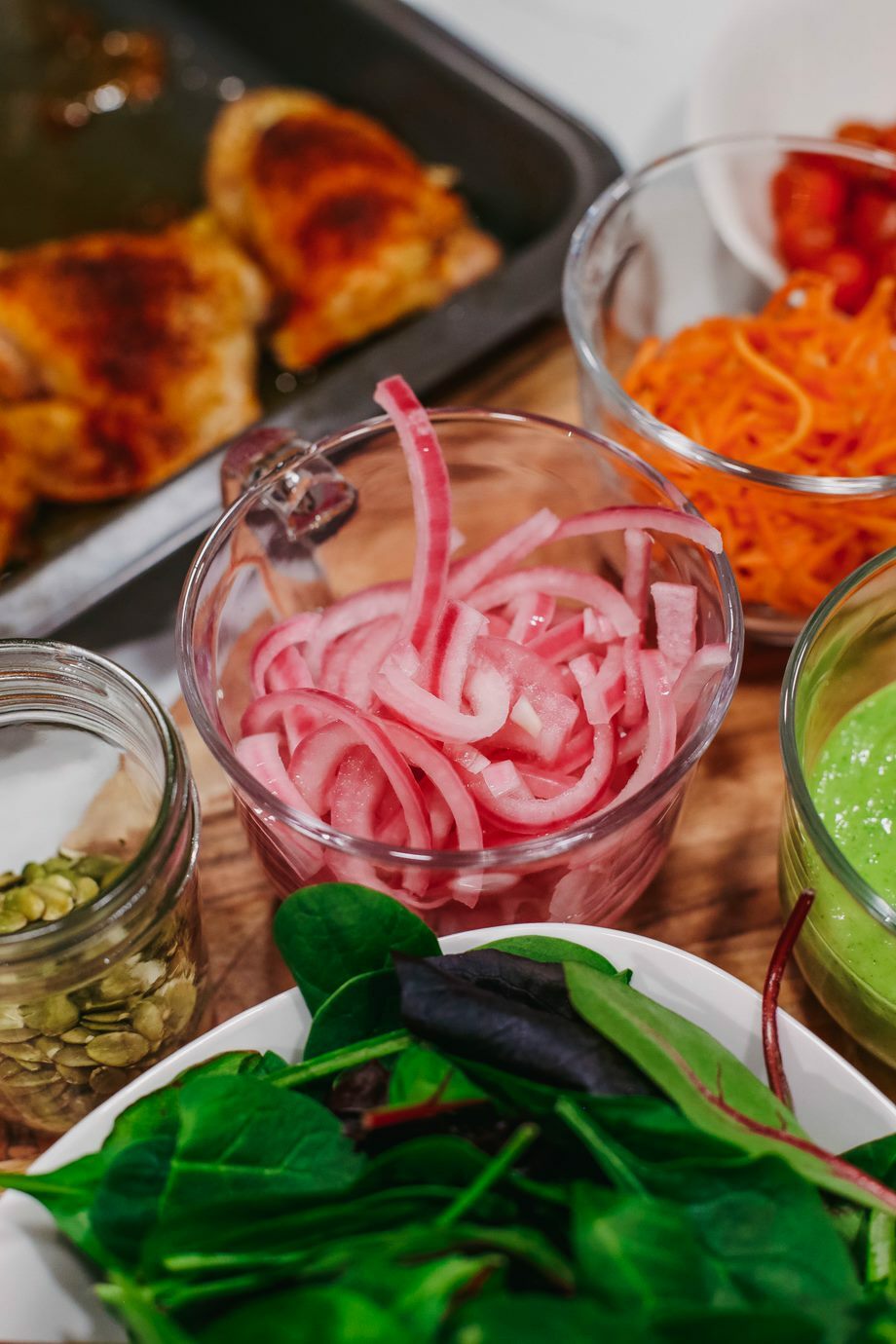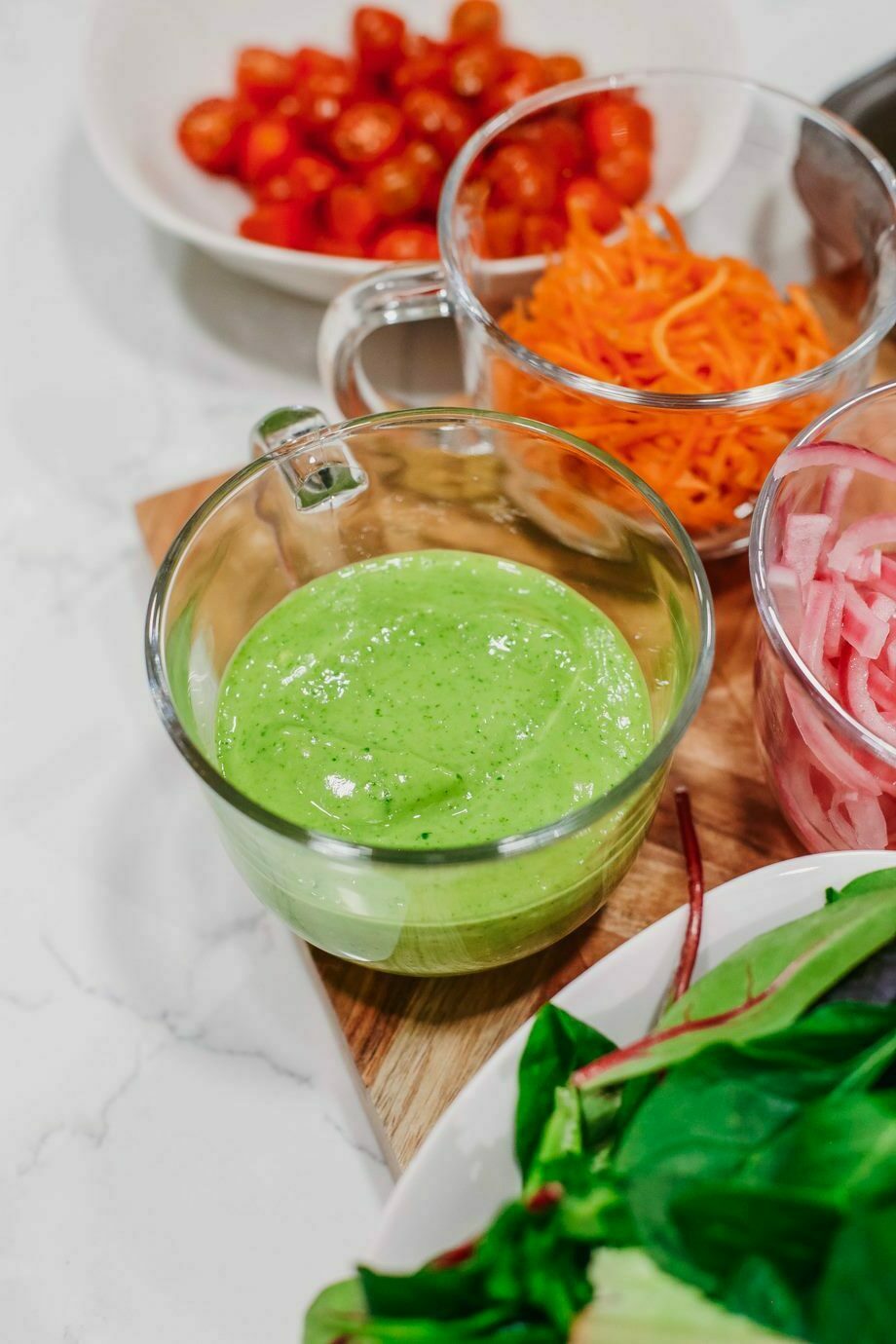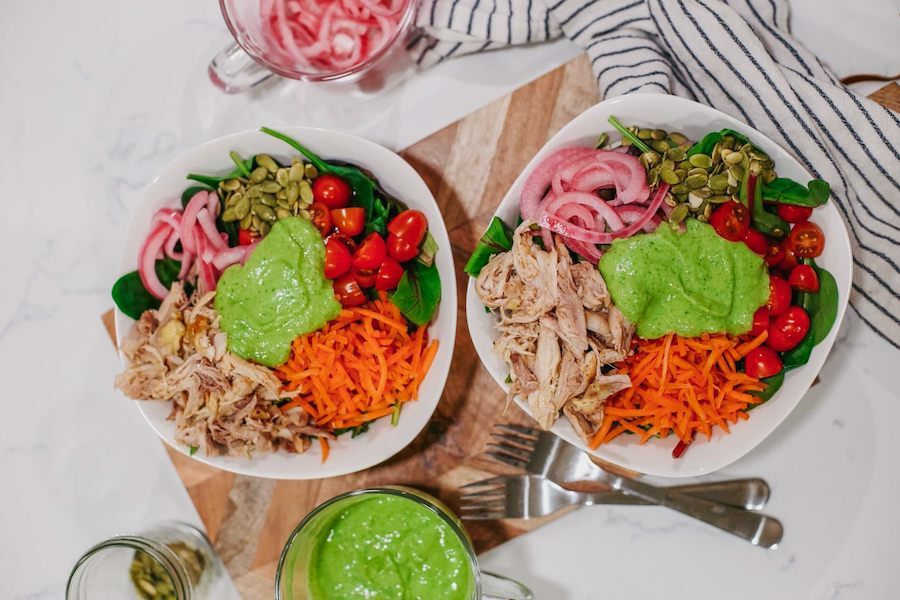 Love our recipes? Make going Paleo even easier and download our 7-Day and 28-Day digital meal plans!
Details
Prep Time:

15 minutes

Cook Time:

1 hour 30 minutes

Total Time:

1 hour 45 minutes
Ingredients
1/2 red onion

1 cups water

1/2 cups white wine vinegar

3 chicken thighs skin-on

4 tbsp olive oil

1/4 tsp ground black pepper (omit for AIP)

1/4 tsp ground paprika (omit for AIP)

1 whole avocado

1 1/2 juiced limes

1/2 head of cilantro

1/2 jalapeño (omit for AIP)

3 cups green spring mix

8 oz grape tomatoes (replace with large ripe tomatoes for AIP)

1/4 cups pumpkin seeds

1/2 cups grated carrots
Directions
Prepare pickled onions the day before by slicing ½ red onion thinly, placing in a jar, add ½ cup water, and add ½ cup white wine vinegar. Cover and refrigerate until use. **You can do this a week before if you wish**

For the chicken, heat oven to 275F. Place chicken thighs onto a baking sheet. Drizzle 2 tbsp olive oil on chicken and spice it up with ground black pepper and paprika. Bake for 1 ½ hours, then shred cooked chicken with a fork.

To prepare the sauce: place avocado, fresh lime juice, cilantro, 2 TBSP of olive oil, water, and jalapeño into a blender and blend until smooth.

To assemble the bowl place spring mix greens into the bowl. Add sliced grape tomatoes, pumpkins seeds, pickle onions, grated carrots, shredded chicken, and dressing. Serve and enjoy!