It's healing chicken noodle soup, Greek-style! Avgolemono is a fragrant lemon soup made with silky-smooth eggs and warm broth.
This soup is ready and on the table in under 30 minutes, making it a great weeknight meal. For best results, plan ahead and marinate the chicken an hour (or longer) before making the soup so you can enjoy those garlicky flavors at its maximum!
Instead of traditional noodles here, this recipe is made gluten-free and Paleo-friendly with two types of spiralized veggies – zucchini and yellow squash. These nutrient-dense ingredients add more healing power to the soup, while simulating the chewy pull of pasta. If you're not a fan of zoodles, you can easily spiralize sweet potatoes or butternut squash here instead.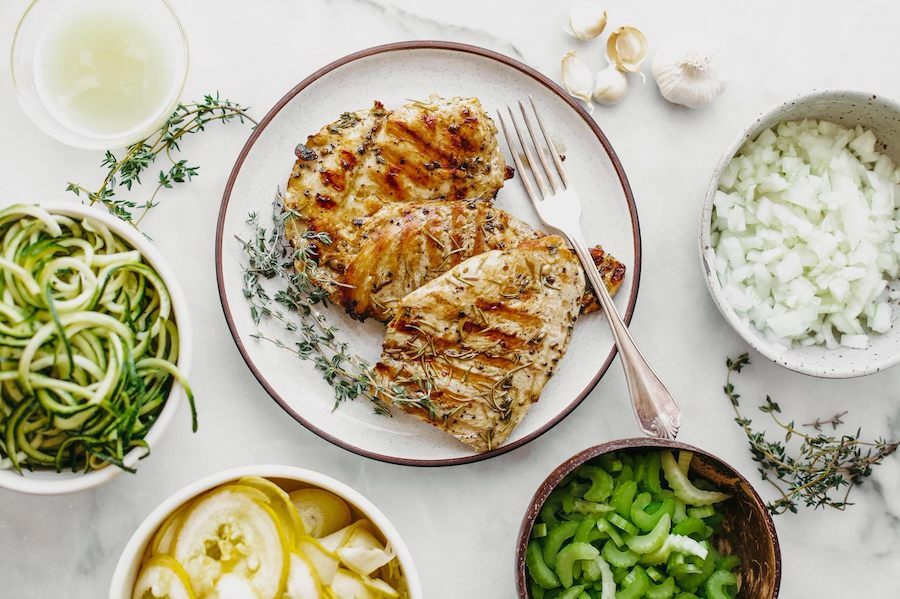 To make your avgolemono soup, start by setting the chicken in a simple marinade of garlic, oil, and thyme. If you're low on time, simply shake it up well and move on with the recipe. You can also save the grilling for the last step to maximize those few minutes of marinating! Use a stovetop grill pan to cook the chicken over high heat for a few minutes per side, then set aside to dice and add to the soup later.
Next, heat chicken broth in a large soup pot and add the celery and onion. Cook for five minutes, then add fresh lemon juice and the spiralized veggies and cook another three minutes, or until the zoodles are just softened, but not limp.
Remove the soup from the heat, then whisk the eggs in a small bowl and add to the warm broth. Stir to incorporate the eggs into the soup to create that silky-smooth consistency. Add the chicken to the pot, then ladle into bowls and serve garnished with fresh herbs. Enjoy!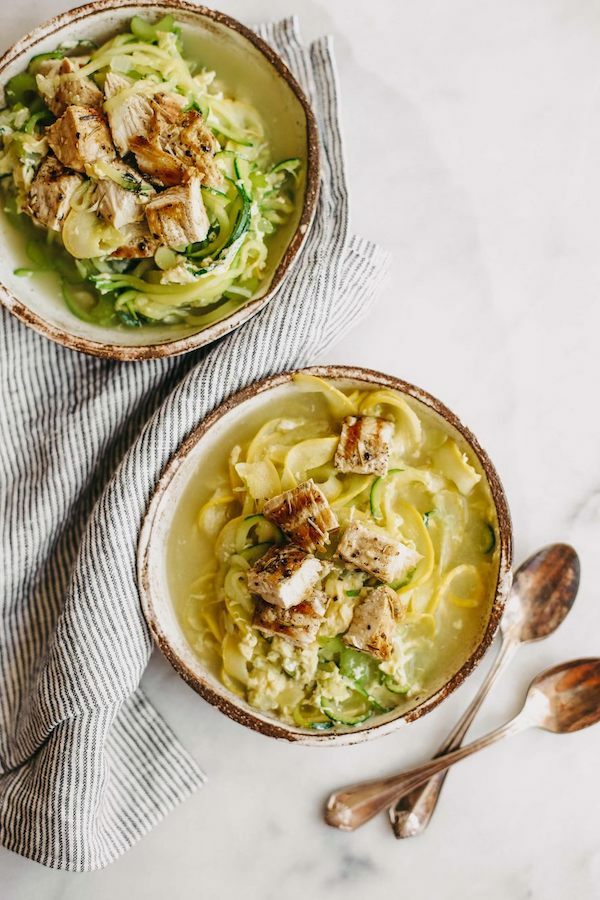 Love our recipes? Make going Paleo even easier and download our 7-Day and 28-Day digital meal plans!
Details
Prep Time:

15 minutes

Cook Time:

10 minutes

Total Time:

25 minutes
Ingredients
1 lb chicken breasts (boneless skinless)

3 cloves garlic, minced

1 tbsp olive oil

2 tsp fresh thyme, plus more for garnish

6 cups of chicken broth

1 cups celery, finely chopped

1 cups sweet onion, finely chopped

1/2 cups fresh lemon juice

2 cups spiralized zucchini

2 cups spiralized yellow squash

3 eggs whisked

Freshly chopped rosemary, for garnish
Directions
Set the chicken in a shallow bowl or plastic bag. Whisk the garlic, olive oil, and fresh thyme together, then pour all over the chicken. Marinate for one hour (optional).

Preheat a stovetop grill pan to high heat. Once hot, add the chicken and grill 5 minutes per side, or until fully cooked. Dice the chicken and set aside.

In a large soup pot, bring the chicken broth to a boil. Reduce to a simmer and add the celery and onion and cook for about 5 minutes.

Add the lemon juice, zucchini, and squash. Cook for about 3 minutes, or until the veggies are just softened, then remove from the heat.

Whisk the eggs in a separate bowl and pour into the warm broth, gently stirring for about 5 seconds.

Add the cooked chicken to the soup. Garnish with fresh rosemary and thyme, then serve!